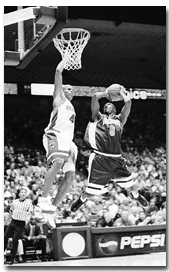 KEVIN KLAUS
UA sophomore guard Gilbert Arenas (0) goes up for a shot against Arizona forward Richard Jefferson in the Pepsi Red/Blue Game at McKale Center. The Red Team behind Michael Wright's 29 points defeated the Blue Team, 84-83, last night.
Arizona Daily Wildcat
Arenas led all scores with 30 points
The jovial spirit usually surrounding the Arizona Pepsi Red/Blue Game wasn't present in McKale Center last night. Instead, a sluggish men's basketball team showed fans that the team is still in preseason form.
The intrasquad scrimmage was won by the Red Team 84-83, but the most glaring statistic on the box score for UA coaches was the combined 42 turnovers.
Sophomore guard Gilbert Arenas tallied 12 of his own for the Blue Team.
"(Arenas) was doing something he hasn't done (before)," assistant coach Rodney Tention said. "He got in some real bad situations today."
Arenas' hot shooting hand (10-for-14 from the field for 30 points) partly made up for his errant passes.
However, senior forward Eugene Edgerson said Arenas needs to play more responsibly when games are close.
"Gilbert is a great player, but he has got to play under control," Edgerson said. "It's better to play like a snail than to play like a jackrabbit. Gilbert is out there trying to make too many things happen in too little of time."
Arenas said that overall he was satisfied with his performance despite what his coaches and teammates said.
"I guess I was just feeling it tonight," he said.
Entering the game, the Wildcats were excited about scrimmaging in front of fans, but the gleeful attitude quickly turned sour when the Red Team hit only 39 percent of its first half shots.
"The (Red Team) was not very sharp and looked very, very sluggish," Red Team head coach Jim Rosborough said. "(Junior forward) Richard (Jefferson) was sluggish and came in and apologized to his four teammates at halftime, but I thought he picked it up."
Jefferson was 2-for-7 at halftime when his team trailed 42-35, but scored 10 second-half points to abet the comeback.
"You could see my body language in the first half, I wasn't mentally there," Jefferson said. "Coach (Rosborough) came in at halftime and did a good job of getting us motivated, but that shouldn't have to happen. We just need to play more heads-up basketball."
Senior forward Michael Wright added 19 second-half points en route to the Red Team's come-from-behind victory. Wright finished the game with a team-high 29 points along with collecting 11 rebounds.
Prior to the game, head coach Lute Olson warned the crowd that they wouldn't see a physical game because of new NCAA rules that emphasize the "finesse game." Olson didn't get his wish.
The rough - if sloppy - play resulted in junior forward Rick Anderson falling on freshman forward Andrew Zahn's foot, leaving Anderson with a twisted ankle.
Anderson, who is expected to redshirt this season, said that while his leg is bruised and swollen, he will be able to play in a few days.
Despite Anderson's injury, Jefferson said the physical aspect of the scrimmage was the lone bright spot of the evening.
"Good teams or bad teams can't play like they're afraid of getting hurt or getting injuries," Jefferson said. "We went out and worked hard and showed some decent intensity, but it was still the ugliest scrimmage game that we've played so far."