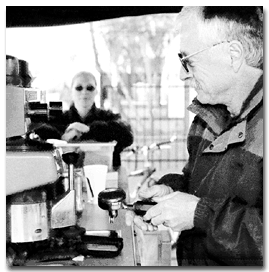 KEVIN KLAUS
Dan Mathy makes coffee, while community health education senior Danielle Krom waits yesterday morning. Mathy, who works at the coffee stand at North Cherry Avenue and East Second Street, is known for having conversations with anyone who wants to talk.
By Ayse Guner
Arizona Daily Wildcat
Dan Mathy spreads his life philosophy through conversation, caffeine
At a street corner on east side of campus, Dan Mathy listens to people - just anybody and everybody.
Some say Mathy is a great cook and a master in coffee making. Some say he is a handsome middle-aged man with five girlfriends and some say he takes the time to talk to people.
"Once a person even said he is this street psychologist," says Jan Abington, a nurse practitioner at the Campus Health, who has known Mathy from the first day he came to the campus a year and half ago.
Mathy, a 52-year-old barista, runs a coffee cart at North Cherry Avenue and East Second Street - "Old World Espresso and Grill." After he leased the cart from a previous owner, he turned that street corner into a little community, where everybody leaves with a smile on their face, he says.
Although he is not on the University of Arizona Mall, Mathy says, he never feels disconnected from the center of the campus. He has seen traffic accidents, fist fights across the street and female students being escorted at all hours.
"This integrates me into the early campus mornings," he says. "Being around young people makes me feel young."
Every morning at 6:30, Mathy opens his coffee cart. Bagels and croissants mingle with the whiffs of freshly brewed coffee. Slowly, bits and pieces of crumbs of grounded coffee begin spreading over his cart, on his cash register, by the grill on the right side of the cart, his territory.
"Pretzels are always free," he says as he boils some water.
Many of Mathy's customers say there is more to his stand than the coffee.
"He takes the time to talk to people," says Skyler Badenoch, a UA economics senior. "People go out of their way to get here, because he is friendly and funny."
Mathy says he knows more than 200 UA people by their names and their jobs, their favorite coffee flavors and their inner struggles.
"I know a lot of people who don't buy coffee too," he says. "Some people just don't drink coffee in general."
Mathy always finds a way to meet people who walk by his cart. Sometimes through compliments, sometimes by asking how their day has been going, and sometimes by wishing a "sunny" day, he takes the first step to reach them.
"When I first met him, I thought he was making up all these names, but the more I came by, I realized he did remember them all," says UA Police Department Chief Anthony Daykin, who stops by the cart once a week as he takes walks on campus.
"I like the fact that I get along with people, who clean these buildings or with the chief of police," Mathy says. "It makes me feel humble."
Mathy moved to Tucson almost 10 years ago. He built townhouses in Green Valley, sold bulldozers in Boston, owned a part of a radio station and had his own afternoon radio show, "Talk on Dan," he says.
But he came to love waiting on people when he was a soda jerk at a small pharmacy in his native Wisconsin. Then he worked as a bartender for a while.
"Thirty years later I am doing the same thing," he says. "Life is supposed to be enjoyed."
"People are taking their lives too seriously, and they are making a mistake. If you are not happy doing something, do something else," he says. "Everyone makes choices, and some are not turning out good. But if you have the spirit, you just keep going."
Mathy says he knows what life means to him. He also knows how life treats others as he greets hundreds of people and shares his life philosophy with them.
"My life is a little song and a little dance," he says. "And a little seltzer down the pants."