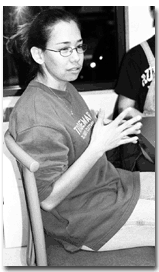 MICHELLE DURHAM
Mathematics Education Freshman Marisa Espinoza, who is hearing impaired, talks to students at Pima Residence Hall as part of the "Can I Borrow Your Eyes" program last night. The program was designed to facilitate an understanding of diversity on the UA campus.
By Mindy Jones
Arizona Daily Wildcat
UA multicultural program complements Tunnel Of Oppression
Informational booklets were guides for UA students touring the "Can I Borrow Your Eyes" exhibit at Pima Residence Hall yesterday.
The program, which ran every 15 minutes, provided students with a view of the University of Arizona campus through the eyes of a few students.
Residence Assistants created the program this fall in an effort to make students more aware of their surroundings.
Keith Humphrey, Pima's hall director, said the two-day program is beneficial for any UA student.
"At the end of the booklet it says that they can have their eyes back at the end of the tour," he said. "Our hope is that they will take them back and see things a little differently."
The students went on a tour on Pima's first floor, 1340 E. First St.
The rooms offer multimedia presentations, challenging students to think about the diverse UA population.
Taped interviews were in the rooms to explain the difficulties which hearing impaired, black and religiously diverse students face.
Heidi Secor, an elementary education senior, said that she enjoyed the testimonials.
"Seeing the people actually talking to you really makes your eyes open even more to different people," she said.
The group saw a mock classroom representing the difficulties faced by students with learning disabilities.
They were then taken into an RA's room, where taped interviews were played for the students.
One of the women on the tape commented that although she hasn't faced any negative racial incidents at the university, some people are hesitant to be in the same discussion session as her.
The sentiments of "fitting in" were expressed by Marisa Espinoza, a hearing impaired mathematics education freshman.
"In high school I was the only deaf person among my friends," she said. "Here I am involved in many things, including the Sign Language Association."
The third and fourth rooms contained religiously charged information about living in the UA society.
One testimonial was given by an Asian Indian freshman who modified her religious observances at the UA.
"I had to shave and cut my hair, which isn't really allowed," she said. "But it doesn't matter, because its really about the faith inside a person."
One of the last rooms visited by the students was decorated with Gay Pride flags and Advocate magazines.
The students listened to a gay male student discuss the obstacles he faces while living with someone who is not gay, lesbian, bisexual or transgendered.
Michelle Twitchell, health education junior and a Pima RA, said each room was important because people have to see what others are experiencing every day.
"It was set up like the Tunnel of Oppression, but it was much more closer to home," she said. "We wanted people to understand that although oppressive things happen on this campus, everyone should be able to get the most we can out of college."