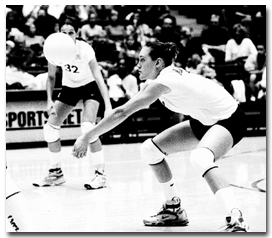 KEVIN KLAUS
UA sophomore outside hitter Lisa Rutledge digs a ball against Oregon at McKale Center. Arizona will win a share of the Pac-10 title if it can defeat Arizona State this weekend.
By Brian Penso
Arizona Daily Wildcat
Talbot, Clark shining as season winds down
With just one match remaining in the 2000 regular season, the Arizona volleyball team is clinging to a half-game lead over USC for the Pacific 10 Conference Championship.
With a win Saturday against Arizona State, the Wildcats (23-3 overall, 15-2 Pac-10) would ensure themselves a share of their first ever Pac-10 title.
Not that the UA players and coaches would be happy with a conference title alone.
"Winning the Pac-10 would be icing on the cake on our great season, but it is not my main goal," head coach David Rubio said. "I am much more focused on improving each week and preparing for the postseason."
Junior setter Dana Burkholder has set her sights higher than just a conference title.
"Our goal is to win the national championship," she said. "It would be great to win the conference, but it is not what we are focused on."
The Pac-10, one of the nation's elite volleyball conferences, boasts three top-10 teams - No. 3 USC, No. 5 Arizona and No. 7 UCLA.
UA has defeated both the Bruins and Trojans and has helped to increase the reputation of the Pac-10 this season.
"The Pac-10 is the best conference," senior outside hitter Allison Napier said. "We have beaten every team in the conference. That shows us that we have a shot to beat anyone in the country."
---
During Arizona's victory against UCLA this past weekend in Los Angeles, Rubio changed his team's service strategy in order to confuse the Bruins.
Rubio had the team serve about 15 feet behind the backline. The strategy turned out to be effective as the Wildcats recorded nine aces in the match.
Senior defensive specialist Elvina Clark led the way for UA with four aces of her own.
Rubio said that Clark was one of the key factors in the Wildcats' come-from- behind victory.
"I can not stress how well Elvina played for us," Rubio said. "Her serving and defense was just fabulous. She is such an integral part of our team."
Saturdays match versus UCLA was Clark's first match back from an unknown stomach illness. The senior's importance to the team was apparent throughout the match.
"It is so great to have her back," Rubio said. "She adds a lot of stability to our team."
Serving has always been a key to Arizona's success, and, with Arizona's new serving style, the coaching staff is excited about adding a new weapon to its arsenal.
"Our serving is so important to our success," Rubio said. "Our 'bombs-away' style of serving has the ability to change the whole complexion of the match."
---
Junior outside hitter Jill Talbot tallied her third straight match with double digits in kills.
Talbot is often an overlooked player due to the success Napier and senior middle blocker Marisa DaLee have had this season.
"Jill is our X-factor," Rubio said. "She is one of our best passers and she is a tough, touch attacker."
Rubio said Talbot accounts for about 70 percent of the teams passing attack.
When teams within the Pac-10 play UA, opposing coaches must worry about Talbot due to her athletic ability on the court.
"The word in the conference is that no one can match up with Jill," Rubio said. "She is definitely one of the main reasons our team has been so good this season."