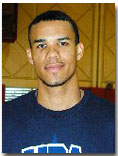 Dennis Latimore
Arizona Daily Wildcat
UA signs Fox after Rickert bows out
Arizona's roller-coaster ride through basketball recruiting season is over.
The UA men's basketball team received letters of intent from Chicago guard Will Bynum Tuesday and Santa Monica, Calif., forward Isaiah Fox yesterday.
The Wildcat coaching staff offered Fox a scholarship just after highly-touted power forward Rick Rickert signed with Minnesota on Monday.
The two players join guard Salim Stoudamire, of Lake Oswego, Ore., and post players Channing Frye, of Phoenix, and Dennis Latimore, from Halstead, Kan.
UA head coach Lute Olson said that Fox has always had dreams of playing in Tucson and jumped at the opportunity when Rickert had a change of heart.
"We had indicated to him that we were going to wait on Rickert's decision, and that if that decision was not in this direction, there would be a scholarship available, and he'd be the first in line," Olson said. "Last night, I got a call from him that he had discussed it with his mother and with his dad, and that this is where he's wanted to be."
Fox is a 6-foot-9, 255-pound post player that averaged 18 points and 11 rebounds per game last season at Crossroads High School en route to being named to the all-California Interscholastic Federation team last season.
Fox is rated the No. 89 recruit in the nation and the No. 16 center by Fast Break Recruiting Service.
"We feel that he's a quality, quality player - (he has) big hands, big body, runs the court hard," Olson said.
While recruiting Fox, Olson said that the trainers at the Michael Jordan Fantasy Camp praised him for his work ethic and dependability.
"The determination on his part was to (train) knowing that it was going to be a whole lot of hard work to improve his ability as a player," Olson said. "We are very, very pleased to have him on board."
Olson said that encouraging Fox to sign wasn't difficult because he has always been an Arizona fan. In fact, Fox's father, Nils, played football for the Wildcats in 1983-1984.
Fox was recruited on the basis that senior post players Justin Wessel, Loren Woods and Eugene Edgerson will graduate and that junior forward Michael Wright may leave to the NBA draft. Many questions still surround the UA program regarding who will return next season.
"One of the most difficult things you do in recruiting is trying to recruit in an outstanding class when you have a number of returning guys, some of whom may be returning, some of whom may not," Olson said. "It is a difficult sale when you are talking about recruiting very, very good players behind very good players who may opt for the draft at the end of the year depending on a lot of things."
The UA coaching staff was rid of another headache when they finally received Bynum's letter on Tuesday.
Bynum originally sent his letter via Federal Express last week, but it didn't arrive when the Arizona coaches had hoped. In fear that it was lost in the mail, UA faxed Bynum another letter. He signed that letter and faxed it back to Tucson Tuesday, the same day that the Federal Express package arrived.
"This kid is a tough, tough young man. He has grown up in a very difficult environment," Olson said of the 5-10, 170 pound guard. "Personality-wise, he reminds me a lot of Michael Wright at the same stage - big smile, very few words. His idea of a great day is to spend about 15 hours in the gym working on his game.
"The one thing that we've certainly been aware of here is that if you're going to have kids that get better, they better be gym rats and have the proper outlook on how they spend their time outside of the classroom."
Bynum averaged 19 points per game last season for Crane Tech Preparatory School and is a three-time all-Chicago Public League pick.
He is rated as the No. 93 recruit nationally and the No. 15 point guard by Fast Break recruiting.
"I feel that Arizona basketball is in good shape for additional years now with this class coming in," Olson said.