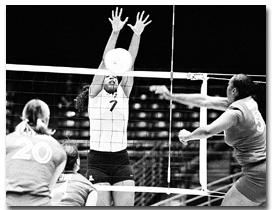 KEVIN KLAUS
UA senior outside hitter Allison Napier blocks a shot against Florida at McKale Center. The volleyball team is exploring the possibility of making Bear Down Gymnasium the site for its home games.
By Brian Penso
Arizona Daily Wildcat
UA wants to emulate USC's North Gymnasium
Playing at home is considered to be one of the greatest advantages in sports.
Most teams have an advantage by playing at home, but some have more of an advantage than others, due to the stadium or arena they play in.
Arizona's volleyball team plays its home matches at McKale Center, which is considered to be a good atmosphere for basketball but has been considered by some to be too large to successfully host volleyball matches.
"It would be nice not to look up and see thousands of empty seats," sophomore middle blocker Stefani Saragosa said.
UA head coach David Rubio would like to help give UA a true home-court advantage by making Bear Down Gym - currently UA's practice facility - the Wildcats' permanent volleyball home.
"I think that Bear Down would be a great venue for volleyball," Rubio said. "Hopefully, one day, Bear Down will become our home. It has the capabilities of being a very loud place to play."
UA is currently ranked No. 5 in the nation, and continued success could draw more fans to matches. Rubio would like to see loud fans play a role in the volleyball experience by moving to a smaller facility.
"On a good night, we can get anywhere from 2,500 to 3,500 fans," Rubio said. "With our crowds, it would be a very loud and intimidating place to play."
The Wildcats realize the importance of having a loud crowd, due to its recent road trip to No. 3 USC, where they played at North Gymnasium on campus at Southern California.
The smaller facility allowed the Trojans to enjoy a homecourt advantage and defeat the Wildcats.
"North Gym is a very small gym that is enclosed with great fans," Rubio said. "It is a great environment to play in."
Eventually, Rubio would like to see Bear Down become similar to USC's fan-friendly facilities.
Unlike McKale Center, North Gym allows its fans to be within five feet of the court, which gives fans the opportunity to drown out and attempt to intimidate the opposing players.
"In Bear Down, the fans would be able to be so close to the court, (and it) would add to the competitive situation," UA associate athletic director Rocky LaRose said. "It would just be a great venue for Arizona volleyball."
While at USC, UA players were impressed by the noise generated by the Trojan band. With such a small facility, the USC band managed to drown out much of the communication between Rubio and his players.
"It was so loud on the court," Saragosa said. "We could not hear the coach in the huddle, and we could barely communicate with each other on the court."
According to LaRose, playing in Bear Down Gym may become a reality this season if the Wildcats host the first and second rounds of the NCAA tournament.
"If we could set it up to play our games in Bear Down, it would be great," junior outside hitter Jill Talbot said. "Once it is up to volleyball condition, it has the chance to be a very intense place to play."
Other schools in the Pacific 10 Conference, such as Washington St., have their own arena strictly for volleyball.
During the NCAA Tournament, Arizona is going to be faced with large crowds in a rowdy atmosphere similar to what they faced at USC.
The UA experience against the Trojans helped the Wildcats mature as a team.
"We never played in an environment like USC's," Saragosa said. "That still is no excuse, though. If we can't play in loud gyms, then we are saying that Arizona can't play in the finals."