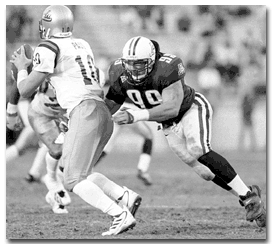 MIKE LARSON
Arizona senior defensive end Joe Tafoya chasing down UCLA quarterback Cory Paus at Arizona Stadium Stadium. Tafoya was suspended for the first half of Arizona State game for his participation in a fight against Oregon State.
By Maxx Wolfson
Arizona Daily Wildcat
Oregon State player not suspended for fight
Arizona senior defensive end Joe Tafoya will spend part of his final home game as a UA player on the bench, a place where the senior defensive end has spent little time in his Arizona career.
The Arizona football program was notified Tuesday that Tafoya will be suspended for the first half against in-state rival Arizona State on Nov. 24 after being ejected from this past Saturday's game against Oregon State.
The OSU player Tafoya fought with was not ejected.
"In a fight, there are two people involved," Tafoya said. "It's real disappointing that I was the only one that got kicked out."
Tafoya - who won the Pacific 10 Conference's Defensive Player of the Week award Sept. 5 - was suspended by Verle Sorgen, the Pac-10's coordinator of football officiating, after Sorgen learned the Wildcat senior had kicked an OSU player and was ejected.
Tafoya, who first learned of the suspension yesterday afternoon, said he feels slighted by the suspension.
"This is my senior year (and) and the biggest game of the season," Tafoya said. "It's maybe the biggest game of my career. I only get to play in two quarters of it. I'm really disappointed."
When reached, defensive ends coach Marty Long declined to comment on the suspension.
The suspension came as a surprise to UA head coach Dick Tomey, who said that Tafoya would not be suspended in an interview following last Saturday's game, a 33-9 loss to the Beavers.
Tafoya will be allowed to warm up prior to the game but must wait on the sideline during the first half.
"It'll be a challenge for me," he said. "I'm going to have to stay in the game and help coach on the sidelines."
Junior Alex Luna and senior Idris Haroon will replace Tafoya in the lineup until the second half, when Tafoya will enter the game.
"They're going to have to keep me from fighting (again)," he joked.
Prior to being ejected, Tafoya racked up three sacks against the Beavers.
The team's leader in sacks (6) and tackles-for-loss (15), Tafoya is the Wildcats' defensive captain.