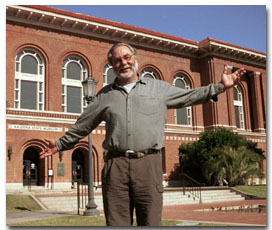 KRISTIN ELVES
George Gumerman, director of the Arizona State Museum, welcomes students to experience the historical and cultural exhibits yesterday afternoon in front of the Arizona State Museum. Last week the Smithsonian Institution chose the Arizona State Museum to become one of it's affiliates in Arizona.
Arizona Daily Wildcat
Program brings no extra money, but more fund-raising opportunities, director says
The Arizona State Museum became the second Smithsonian Institution affiliate in Arizona last week, joining the historical mining museum in Bisbee.
The affiliations program, which began in 1997, is a way for the Smithsonian to display their collections around the country, said George Gumerman, director of the Arizona State Museum.
This new program will emphasize outreach and exhibit design, and will also help the Arizona State Museum's expansion project in Rio Nuevo.
"We will tap into the expertise of the Smithsonian," Gumerman said. "And we (will) help them have a greater presence in the Southwest."
While the affiliation does not provide additional funding for the museum, the change will allow more publicity and access for people who recognize the Smithsonian name, Gumerman said.
"It should increase our fundraising capabilities," he said.
A total of 62 affiliated museums in 23 states, Puerto Rico and the District of Columbia have joined the Smithsonian's affiliations program since it began three years ago.
"It's a way for the collections and education materials to have a wider audience," said Tracy Baetz, affiliations program manager at the Smithsonian Institution. "We recognize that not everyone can make it to D.C., and so now they can have the Smithsonian experience in their hometown."
Baetz called the program's structure a "two-way street," providing local museums with artifacts and the Smithsonian with access.
"It's a collaborative partnership, tailored to the long-term needs and goals of each affiliate," she said. "The individual museums can do multiple things at once with our help."
There will be no immediate changes at the museum, but eventually both the university community and campus visitors will benefit from the affiliation.
Many research museums, including the Arizona State Museum and the Smithsonian, can show only 1 percent of their collections at a time. With redesign ideas from the program, Gumerman hopes to correct that problem.
"Our plan is to have storage of collections visible instead of behind closed doors," Gumerman said. "We want to reach out to people outside of Arizona as well."
In order to facilitate the new program, the museum will hire more publicity coordinators, educators, programmers and exhibit designers. They will also change the way they target visitors.
"The museum has been open for 107 years and we've focused on research and building our collection during that time," Gumerman said. "Now we will bring our public programs to a level with the other two."