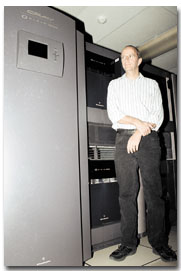 MIKE LARSON
Computer operations support specialist Dave Maggio stands next to the UA's "supercomputer" in the Center for Computing and Information Technology building yesterday afternoon. The "supercomputer" weighs 5,000 pounds, is six feet high, four feet deep, contains 48 gigabytes and is 20 feet long.
By Shana Heiser
Arizona Daily Wildcat
'Super' among 20 U.S. universities on TOP500 list, could help recruit renowned researchers
UA's supercomputer has achieved international ranking for the first time, placing it next to other powerful computers from Japan, the United Kingdom and Germany.
"It's the very first time that our university has achieved enough power to be listed," said Peter Perona, Center for Computing and Information Technology executive director. "It is the first time we've made the big leagues."
The 5,000-pound computer resides in UA's CCIT and is made of steel, plastic, copper and silicone, said Mark Borgstrom, principal research specialist at CCIT.
Among 20 U.S. universities with ranked supercomputers on the TOP500 list, the University of Arizona's "Super" is ranked 16th, and is No. 389 on the worldwide list.
Super is used primarily by faculty who sponsor graduate students to help with the research, including modeling and simulations, Borgstrom said.
"People from aerospace and mechanical engineering are using it as a virtual wind tunnel, where they're testing different types of aerospace designs," he said. "We have chemistry people who are simulating molecules. We had a group that was simulating the weather (and) trying to predict what the weather was going to do in a particular area."
Analyzing large databases of information and Super's other functions are critical components to educational and research programs, said Richard Powell, UA vice president for research.
"This allows us to better support the faculty who are involved in a high performance computing program," Powell said. "It goes all over the university which is what makes it so important."
As a Research I classified university, it is important to have the type of computing facilities that go along with that kind of status, Borgstrom said.
"This would enable us to recruit other researchers to this university who might not otherwise consider us once they see we have this kind of capacity," Perona said.
The supercomputer was made by Silicon Graphics Inc., and the UA has leased it for about $500,000 a year, Borgstrom said. The UA began leasing the SGI machine in 1997.
"It's a commercial computer and was networked together at the UA in terms of having several different computers involved," Powell said.
Powell said the UA needs to continue increasing computer power as the rest of the world's technology gets more developed.
"If we plan to stay on that list and remain competitive with the rest of the universities in the world, we're going to have to upgrade at some point because the (ranking) list is always moving," he said.
Shana Heiser can be reached at shana.heiser@wildcat.arizona.edu.