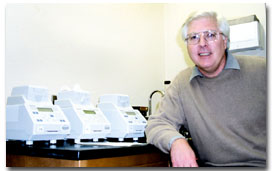 MIKE LARSON
Jim Collins, head of the UA's veterinary sciences department poses in his office in the Veterinary Science and Microbiology building yesterday afternoon. Collins is among the researchers employing techniques to speed up the diagnosis of animal illnesses.
By Jose Ceja
Arizona Daily Wildcat
DNA-based tests assist in faster diagnoses
Tests performed at a UA lab may help delay an inevitable source of grief and suffering for many - the loss of a pet.
The Arizona Veterinary Diagnostic Library, or AzVDL, now offers DNA-based tests that speed up the process of diagnosing animal diseases by identifying microorganisms responsible for maladies such as canine distemper - a disease causing fever and respiratory inflammation in dogs.
Jim Collins, head of the UA's veterinary sciences department and microbiology - which includes the AzVDL - said the quick diagnoses these tests provide are helpful in curing animals faster and preventing outbreaks.
The lab assists veterinarians by analyzing tissue samples - such as blood, feces or urine - in as little as a day as opposed to the older diagnostic methods that often took weeks.
"At the diagnostic lab, we've brought in more sensitive and specific tests, and developed some ourselves to help evaluate animals that are ill with common infectious diseases," Collins said.
"The treatment depends on an accurate diagnosis," he said.
Although lab tests can be used on most animals, Collins said the tests are commonly performed on birds, cats and dogs and have helped save the lives of several animals.
The tests are cheaper than older tests performed in commercial laboratories and cost between $10 to $20, Collins said.
Robert Glock, director of the Arizona Veterinary Diagnostic Lab said advancements in technology have greatly facilitated veterinary sciences.
"We are trying to keep up with the times," he said.
The AzVDL is one of 36 labs in the United States and Canada accredited as a service veterinary diagnostic laboratory for all animals.
The tests have been used by veterinarians in Tucson and Phoenix - including Petsmart stores.
"Veterinarians have told us that some of these (PCR) tests have really changed their understanding of certain diseases," Collins said.
Jose Ceja can be reached at jose.ceja@wildcat.arizona.edu.