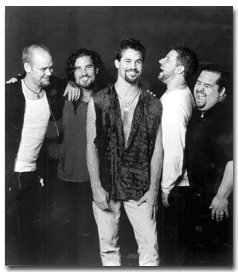 Photo courtesy Blackwood Ave. Dallas band Blackwood Ave.- (from left) Dean Kraus, Michael Grubbs, Brandon Bentley, Bob Henry and Jason Garza - brings its
By Phil Leckman
Arizona Daily Wildcat
Dallas band seeks stardom the old-fashioned way.
For an unknown band, breaking into the national music business is no easy feat. The competition for big recording contracts pits any would-be superstars against hundreds of other acts, each just as hungry for success as the next.
While some groups have taken extreme measures to get noticed - Limp Bizkit once paid a Portland, Ore. radio station to play its single non-stop for days - Dallas' Blackwood Ave. is taking a more traditional route - going on the road.
The band, which appears at Tucson's Double Zero nightclub, 121 E. Congress St., on Sunday, is getting ready to launch its first national tour.
"We've never really gotten outside of Texas," said acoustic guitarist Dean Kraus, one of the band's two songwriters.
With a little help from an investor, however, the five-member band has rented a 40-foot RV and is getting ready to take its Southern-tinged acoustic rock on the road.
"We're gonna throw our gear in a trailer, hook it up and hit state to state, just get after it," said Kraus. "We've been itching to do this for a long time."
The tour, in support of Burning the Crops, the band's third album, sounds onerous. The band will play 26 shows in 31 days, starting when it roll out of Dallas on Thanksgiving night.
Kraus conceded that spending the next month cooped up in an RV with his bandmates and three crew members will be a bit of challenge.
"Eight of us on the road, packed into that bus, will be pretty interesting," he said.
But Kraus said he sees the tour as part of what it takes to get Blackwood Ave. the national attention the band craves.
"Hopefully we'll land a big recording contract and get some real promotional money behind us," he said. "We want to get out there and attract some attention, establish a nationwide fan base so that the big labels know we can make some sales. It's going to be a test - the labels want to be sure we can do a big tour without biting each other's heads off."
The band members' long history together will likely help them weather the trials of touring. Blackwood Ave. began in 1994, when Kraus and lead singer and mandolin-player Brandon Bentley began playing together. They eventually enlisted the aid of drummer Jason Garza, bassist Robert Henry and electric guitarist Michael Grubbs and began crafting what Kraus calls "a blend of vocal harmonies and acoustic-flavored rock - kind of a classic rock feel, but with a modern edge."
While he knows the road toward stardom may be a hard one, Kraus said he hopes his band's melodic, optimistic tunes will reach ears and minds nationwide.
"We try to convey a positive message within the music - we sing what we feel," he said. "We've each had a little bit of heartbreak in the last few years, but we try to write good songs to help you heal and get over those things."
Phil Leckman can be reached at catalyst@wildcat.arizona.edu.