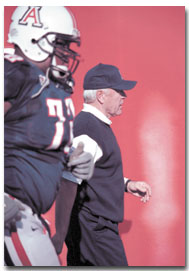 AARON FARNSWORTH
Dick Tomey walks through the players' entrance at Arizona Stadium prior to the Wildcats' 30-17 loss to Arizona State on Friday. Tomey abruptly stepped down following the game citing increasing public pressure to resign.
By Ryan Finley
Arizona Daily Wildcat
Head coach cites public pressures, criticism as reason for resignation
Dick Tomey resigned as head coach of the UA football team following a 30-17 loss to rival Arizona State Friday night at Arizona Stadium.
"The public debate became so difficult for my family, for our team (and) for our coaches and their families," Tomey said. "I appreciate the opportunity to work at the university. I greatly appreciate all the tremendous Wildcats we've had over the years that have given every ounce of their effort."
Tomey's resignation - on the heels of Arizona's 5-6 losing record this season - left many UA players in tears. Tomey was popular for his "open door" meeting policy and straight-shooting recruiting approach.
"The No. 1 reason why players go to school is to play for a coach," sophomore wide receiver Bobby Wade said. "I came here to play for coach Tomey and his coaching staff."
Senior quarterback Ortege Jenkins - who was 16-of-31 with an interception in his final game as a Wildcat - said that UA players, not Tomey, should be held responsible for the loss.
"We're out there making plays," he said. "We're the ones that are out there giving it our all. We didn't make the plays."
Senior wide receiver Brad Brennan agreed.
"We were crushed," he said. "It's tough to lose a big game like this and (then have) a coach."
In a brief press conference following the game, Tomey said that the time was right to leave Arizona. Tomey, who held the longest tenure of any Pacific 10 Conference coach, was hired before the 1987 season.
In his 14 years at the UA, Tomey became the school's all-time winningest coach with a 95-64-4 record. Under Tomey, Arizona has attended seven bowl games and won four of them, including a 1994 Fiesta Bowl victory against Miami and a 1998 Holiday Bowl win against Nebraska.
Prior to coaching at UA, Tomey was the head coach at Hawaii, where he compiled a 63-43-3 record during nine seasons.
As of yesterday, it was unclear whether Tomey's assistants would be retained and whether the 62-year old head coach was asked to resign by UA athletic director Jim Livengood.
"I'd give anything if it were different, but it's not," Tomey said.
Tomey's conservative offensive play-calling had been under scrutiny in recent weeks. The head coach - who served under coaching legends Pepper Rodgers, Bo Schembechler and Homer Smith as an assistant coach - finally succumbed to mounting public pressure.
Tomey said that he will remember the senior leadership of his final UA class.
"If I had to pick a bunch of guys to be a senior with, it'd be O.J., Joe Tafoya - guys like that," Tomey said.
The Arizona athletic department has planned a press conference today.