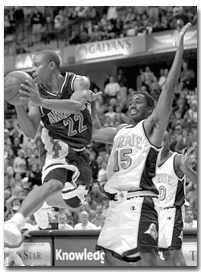 photo courtesy of the Associated Press
UA junior forward Michael Wright dunks against an EA West Coast All-Star in an exhibition game earlier this season. The UA basketball team will face Illinois tonight in the finals of the Maui Invitational in Lahaina, Hawaii.
By The Associated Press
INDIANAPOLIS - Arizona coach Lute Olson drew up a potential game-winning play looking to get the ball inside.
His players had other ideas.
Brett Buscher blocked Lamont Frazier's shot in the final seconds, setting up a breakaway basket by Willie Deane as Purdue stunned No. 1 Arizona 72-69 Saturday.
''It was a case of over-penetration on the part of our guards. It got us nothing,'' Arizona coach Lute Olson said about the shot. ''Guards were trying to shoot the ball from eight feet and taking it into the heart of the Purdue offense. We were not going to do something to over-penetrate like that. We've taught our guards to forget about trying to get to the basket. It's a fast break waiting to happen and that's exactly what it did.''
Purdue coach Gene Keady said the blocked shot made him proud.
''That was an effort play and he's always going to give effort,'' Keady said.
Rodney Smith led Purdue (1-1 overall) with 20 points, and Deane and Joe Marshall each had 16 in the John Wooden Tradition game.
''Kenny Lowe got the loose ball and passed it to me,'' Deane said of the game-winner. ''I wasn't aware of the clock. If I was, I probably wouldn't have shot it.''
Marshall, a transfer from Mississippi State who scored only two points in his Purdue debut, rebounded with a 7-for-9 effort, with two three-pointers.
''I was tight, tense and couldn't unwind,'' he said of the opener. ''I came out tonight relaxed and I played much better. We did not give up today and we fought and won.''
The Boilermakers took a 70-68 lead on Deane's basket with 1:13, and Arizona's Michael Wright made the second of two free throws to cut it to 70-69.
Arizona (3-1) snapped a halftime tie and led by as many as seven in the second half. The Wildcats had a 55-50 lead when Gilbert Arenas, who scored 18 points, hurt his ankle on a layup attempt and did not return until the final minute.
Smith's two free throws tied the game at 64 with 3:43 remaining. Arizona regained the lead on two Jason Gardner free-throws, but Purdue came right back to tie it. Both teams kept exchanging free throws until it was 68-68.
''I was jacked up today, and wanted to do well,'' said Smith, who led Indianapolis Pike to a state championship in 1998. ''I know I had a lot of hometown people here and had to do a good job.''
Wright also scored 18 points and Jason Gardner added 14 for the Wildcats, who won the Maui Invitational Wednesday. The Wildcats arrived in Indianapolis Thursday.
The Boilermakers were outrebounded 40-20, but shot 52 percent compared to Arizona's 41 percent.
Purdue took a 15-3 lead to open the game thanks to two three-pointers by Smith. Smith hit another three-pointer and Deane had a dunk to stretch the lead to 26-15, the largest of the game.
Olson said the difficult travel schedule hurt the Wildcats early.
''We really had a difficult road trip, but that's no excuse,'' he said. ''In the early going it effected us probably some, but I don't think that was the case the remainder of the game. I just felt they were much more ready to play.''
The Wildcats, who were playing without suspended preseason All-American Loren Woods, made a furious comeback as Arenas made two three-pointers to help cut the gap to six at 30-24.
Gardner, who led North Central High School to a state championship and was selected Indiana's Mr. Basketball, made two straight 3-pointers, and Eugene Edgerson converted a half-court steal into a layup for a 32-30 lead.
Wooden, a Purdue alum, was in attendance and presented Keady with a trophy. Wooden told Keady he was proud of the effort and performance of the Boilermakers.
Purdue shot 35 percent from the floor in a season-opening loss to Central Michigan. Purdue avoided opening the season with consecutive losses for the first time since 1976. Keady took over in 1980.
''They played us at the wrong time,'' Keady said. ''It was good we got beat Tuesday. We really believed we could beat the No. 1 team. I could see it in their eyes.''