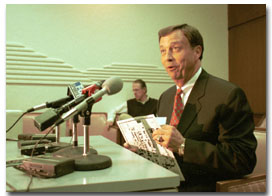 AARON FARNSWORTH
UA Athletics Director Jim Livengood holds a press conference about the search for a new football head coach yesterday at McKale. With the recent resignation of Dick Tomey, Livengood said he would like to have a new coach in place before winter break.
By Maxx Wolfson
Arizona Daily Wildcat
Athletic director and committee looking for candidates
In a press conference yesterday UA Athletic Airector Jim Livengood said that the next Arizona head football coach will likely be hired in the next few weeks.
The job became available after the surprise resignation of head coach Dick Tomey, who held the position for the past 14 seasons.
Livengood continued to specify that the Arizona football program is not a "sinking ship."
"I honestly believe that this program is in good shape," Livengood said. "Can we get better? Absolutely. Certainly the direction we are looking for is exactly that."
Livengood, UA President Peter Likins and a group of advisers, which Livengood dubbed a "gathering committee," are putting together a list of potential candidates and information on each candidate.
The advisers - Rocky LaRose and John Perrin, UA senior associate athletic directors; Gail Hopkins, associate to Livengood; Chris Del Conte, associate athletic director in charge of development; Dud Woodard, faculty athletic representative; and Peggy Ota, one of Likins' top associates - will aid Livengood in recommending a candidate.
"The job of these people and myself is to try to, in a very short period of time, to collect every possible name that could be considered for this position," he said.
Livengood would specify no timeline as to when a coach would be hired, but he said that he wanted to hire a coach before the players left for the winter break.
"The best way to characterize that, is that I would like to go fast but not hurry," Livengood said. "We do not want to overlook people, we don't want to not do a good background check, and not do all the right things just because somebody might be frustrated that we might not select someone fast enough.
"We are driven by trying to find the best person for the University of Arizona."
Although Livengood didn't reveal any names of possible candidates, he said "there are enough potential prospects."
Livengood, who has been the UA athletic director since 1994, said that the university is not looking for a "big name" coaching candidate, but said the program would be buoyed by a nationally-renowned coach.
Instead of giving specific names, Livengood gave a long list of specific qualifications that a potential head coach would need to meet to be required for the job.
The salary the new coach would be offered is negotiable, Livengood said.
"We are not going to go out and hire a coach just because he might fit into a salary range," Livengood said. "We are going to hire the best possible person and do the best we can to make it work and we have some abilities to do that."
Arizona's former football head coach, Dick Tomey, is still negotiating with the school regarding the final three years of his contract.
Livengood said Tomey's resignation will likely slow the pace of the 62-year- old coach's lifestyle.
"For Dick's sake and all the things that were going on, it probably has a better chance for him to have a better quality of life," Livengood said.
Tomey's assistant coaches each personally met with Livengood earlier this week and were given the option to help out in Wildcat recruiting provided they are willing to participate.
"I have asked (UA recruiting coordinator) Rob Ianello to continue in his role... and we have a number of the coaches on the road (recruiting) right now," Livengood said. "Some will say - and some have - that 'I can just not do a good job right now' and there is no penalty for that."
Livengood said that his next press conference will likely name Tomey's successor.
Maxx Wolfson can be reached at sports@wildcat.arizona.edu.