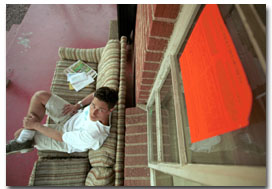 RANDY METCALF
Management information systems junior Andrew Clark sits in front of his house yesterday. Clark's house was recently red tagged by the Tucson Police Department.
By Jose Ceja
Arizona Daily Wildcat
Method usually effective in controlling disturbances, Tucson council member says
Bright-red, rectanglular stickers, known as "red tags," are quickly being assimilated into the college experience as a result of an ordinance passed by the Tucson City Council in May 1996.
Red tags are neon orange stickers which the Tucson Police Department distributes to houses or apartment complexes that have "unruly gatherings" resulting in complaints from neighbors.
The stickers must be displayed for 120 days, with further disturbances during the time period carrying a $500 fine that rises to a maximum of $1,500 with each additional violation.
Though exact figures are not available on how many red-tags have been given, the "red-tagging" of entire apartment complexes has made many students aware of them.
"I thought they were only about four months old (the red tags)," said Judy Parelma, a marketing freshman.
Parelma said she understands the concerns of residents who are disturbed by loud parties, but said it is also unfair that students cannot have parties without worrying about the red tags.
Andrew Clark, a management information systems junior, recently had his house red tagged because of an "overly sensitive" neighbor.
Clark said he believes that more than one neighbor should have to complain for such drastic actions to be taken.
"My freedom is hampered by one person," he said. "I don't think that's right."
Tucson City Councilman Jose Ibarra - who was a member of the council when the ordinance was passed - said the ordinance has been successful and was designed to punish repeat offenders.
"It tells people, 'If you do this, this is what is going to happen to you,'" he said.
Ibarra said the recent red tagging of Jefferson Commons, 850 E. Wetmore Road - an apartment complex that caters to college students - came about because complexes such as this often behave as if they are "above the law."
Ibarra said the red tagging will continue, and that students can avoid being red tagged by being respectful of their neighbors and keeping their parties under control.
"I think it's all a good idea, to be honest with you," he said.
Jose Ceja can be reached at jose.ceja@u.arizona.edu.