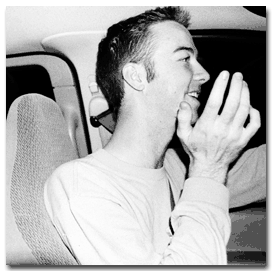 MICHELLE DURHAM
Communication senior James Harrigan taxies students in one of the two vans that the ASUA Escort Service uses to deliver UA students around campus, Thursday night. 621-SAFE has been active on campus for the past five years.
Arizona Daily Wildcat
Working for the ASUA Escort Service requires patience, open nights and an occasional
Every Thursday night, many UA students get an early start on their weekend festivities - but James Harrigan spends his evening in a white van to drive those students around campus.
In less than two hours, Harrigan has given students rides to residents of the Gamma Phi Beta sorority house three times, Arizona-Sonora Residence Hall twice, Tyndall Avenue Garage, Sky View Apartments and the Education building.
Contrary to some beliefs, Harrigan is not a taxi driver - he is the director of Escort Service, a program that provides safe transportation in and around the university campus during the late-night hours.
"My favorite part of driving the students around is talking to them and hearing their interesting stories," said Harrigan, a communication senior. "My claim to fame is that in a seven-minute ride, I can get a person's entire sexual history out of them."
Harrigan said during an average night, the Associated Students of the University of Arizona Escort Service provides rides for 150 to 200 students. More than 11,000 students have used the program this semester.
The Escort Service operates Sunday through Thursday nights from dusk until 12:55 a.m. The service has 13 student drivers and five vehicles - three golf carts, and two mini-vans, one of which they own and the other which was donated by Budget Car and Truck Rental.
Harrigan said he was able to extend the Escort Service's boundaries this year to East Waverly Street to the north, North Fourth Avenue to the west, East 10th Street to the south and North Tucson Boulevard to the east, because he was trying to include more student apartment complexes in their boundaries.
In past years, the boundaries only extended four blocks around campus.
"Besides the dorms, fraternity and sorority houses and the (UA Main) Library, we also take them to and from businesses that don't serve alcohol," he said.
Harrigan also said that the Escort Service does not pick up intoxicated people because they have had past situations with students vomiting in the van and grabbing the steering wheel while the car was in motion.
"We are catered around school safety, we are not a ride home from a party," he said.
Trisha Ditsworth, a musical theater freshman, said she uses the Escort Service when she needs a ride home from her late-night theater rehearsal.
"I seriously use it all the time," Ditsworth said.
After dropping a group of three males at Corleone Apartments, Harrigan explains how he has kicked out students from his vehicle because they've been "too stoned."
"There have been many instances where a call was placed by one student who needed a ride, but more than three of them would try to get in the car when we show up," Harrigan said. "When they're stoned, they can be really unpleasant."
Harrigan said that their policy is to take groups of up to three people, because groups of four or more aren't in as much danger, and they need to keep the vehicles and spaces open for smaller groups of people, who might be in more danger.
"It's rare that we have a problem, since it's a free service, but I have had to ask people to get out of the car about five times," he said. "But, the second best thing I like about this job is the power trip when I can kick out the students."
Jermain Allen, a liberal arts freshman, said that he is a "regular" at the Escort Service when he gets a ride from his residence hall, Babcock Inn, to visit friends at Arizona-Sonora Residence Hall.
"I'd say I take it about five times a week - it's really great," Allen said.
The Escort Service's $50,000 budget, which comes from ASUA funding, pays for the payroll of student drivers, repairs and gas. They fill the van about every two days.
Harrigan said he predicts this week will be a slow one because of upcoming finals, and the following week even slower because of a limited time of business for finals.
"We will only be driving students from the library, the dorms and the sorority and fraternity houses during finals week," he said.
Harrigan said the construction has been a big hassle for the drivers because they have to find different routes and it takes longer for them to pick up the students.
Candice Donald, a molecular and cellular biology junior, said she appreciates it when she gets a ride from the Escort Service about once a week after her late-night lab.
Desiree Bear, a sociology freshman who was riding with Donald, said she also takes the Escort Service often so she doesn't have to walk alone to her friend's house.
Harrigan said that between classes, office hours and work, he spends between 80 to 100 hours a week on campus.
"My school work has suffered since I began working, but it's a lot of fun," Harrigan said. "I think it's worthwhile because I have two older sisters, so I am always concerned with campus safety."