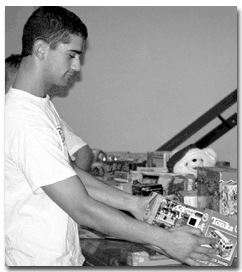 HEATHER CHAMBERS
Political Science sophomore Todd Dana drops off a toy for the annual Christmas Toys for Tots charity event Saturday morning in the Arizona Ballroom. All twenty one fraternities participated as part of their philanthropic service.
By Blake Smith
Arizona Daily Wildcat
About 200 donated toys will be given to local charity
Pledges from all 21 UA fraternities gathered Saturday morning for free pizza and a good cause - to donate toys that will benefit kids at a local charity during the holiday season.
From Barbies to Tonka trucks, about 200 toys were donated at the luncheon and picked up in the afternoon by a representative from Casa de los Ni–os - which provides residential shelter care for abused and neglected children and counseling for families.
Casey Schmiett, an undeclared freshman and Pi Kappa Alpha pledge, said this event will make the holidays happier for needy children.
"It is a good idea this time of year because there are less fortunate kids in our community who need toys," Schmiett said.
No children were on hand for the luncheon - which was held in the Memorial Student Union's Arizona Ballroom - but Jeff Evans, Interfraternity Council president, said the collected toys will benefit kids who either move in or out of the shelter during December.
"It is going to make their Christmas brighter," Evans said.
Fraternity pledges established - the first all 21 fraternities have collaborated on something like this.
Evans said the pledges came together and decided they wanted to make the idea a reality.
Chemical engineering sophomore and Alpha Gamma Rho pledge Sean Ryan said the gathering not only benefits less fortunate kids, but also the fraternities.
"It gets all of the fraternities involved in this one event," Ryan said.
Chet Doering, a finance junior and Alpha Gamma Rho pledge, added that another positive aspect to this event was that fraternities were able to improve their public image.
"Frats are looked down upon by the community," Doering said. "This gives us a chance to do some good."
Evans added that he hopes the toy donations and luncheon becomes an annual tradition.