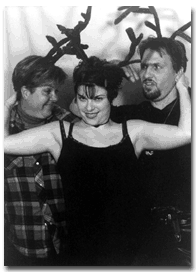 Photo courtesy Green Thursday Theatre Project. From left to right: Blitzen (Adrienne Perry), Vixen (Traci Hartley) and Cupid (L. Jay Meyer) bring Santa's indiscretions to light in the Green Thursday Theatre Project production of
Arizona Daily Wildcat
New queer theater collective to open Christmas-related production tomorrow
Every Christmas season, the fabled claymation version of "Rudolph the Red-Nosed Reindeer" is resurrected for yet another appearance on the television screen.
This year, thanks to the new local theater project Green Thursday, Rudolph's innocent story will get a face-lift.
Green Thursday will start off its first season tomorrow with the production "The Eight: Reindeer Monologues," a racy interpretation of the relationship Santa has with his reindeer.
The theater company is categorized as a kind of queer theater collective that offers quirky and alternative drama to the Tucson community.
"Green Thursday was a schoolyard taunt - if you wore green on Thursday, you were queer," said Green Thursday co-producer David Hoffman. "Here, the word queer is used very broadly. It means gay and lesbian but also 'off the beaten path.'"
Hoffman said when he joined forces with close friend David Morden to start Green Thursday, he knew wanted to implement "fringe" theater, or theater that experiments with creative, idiosyncratic productions that stray from mainstream theater.
"A lot of people are attracted to creative, artistic performance, to the irreverent and a little more edgy," Hoffman said. "This isn't something you'd bring your kids to."
Several UA students are involved with Green Thursday including theater arts graduate student L. Jay Meyer who plays Cupid in the show.
"Cupid in 'The Eight' as opposed to regular Cupid - he's a little screwed up," Meyer said. "He's gay and flamboyant and a little obnoxious. He's very outspoken about Santa Claus and agrees Santa Claus is a big pervert."
Meyer was invited to audition for the show by Samantha Wyer, a UA adjunct instructor of theater arts and director of "The Eight."
"Knowing the play, it was just a matter of finding eight folks I thought would be the embodiment of the eight reindeer," Wyer said. "I knew a lot of talented people, but I had to find out who was in the mix."
Wyer also works for Arizona Theatre Company as the associate artistic director, and Hoffman and Morden hired her as a member of "Green Thursday's" board of directors and eventually as director of "The Eight."
"I have been holding onto this play since grad school," Wyer said about "The Eight," which was written by a friend of hers. "It's so irreverent to Christmas."
Wyer mentioned that the format of "The Eight" is unlike most plays in that none of the actors interact with each other. Each actor has a 7 to 8 minute monologue, which is unusual since monologues are typically only a minute or two long.
"Because of the structure of the play, because there is no interaction among deer, each one wants to tell their version of the truth of the accusations against Santa Claus," she said. "(The deers) joke about each other and make snide comments about each other but they never interact."
Hoffman said Green Thursday's next endeavor will be "Shakespeare's R and J," a somewhat queer spin-off of Shakespeare's "Romeo and Juliet." The show is scheduled to open sometime in February.
"It's not a straight-across queer interpretation, but it is the basic gist of the play," he said about "R and J." "Four schoolboys skip class and act out scenes from 'Romeo and Juliet,' and emotions start coming out from the two boys playing Romeo and Juliet."
Hoffman, Meyer and Wyer all emphasized that "Green Thursday" is not a run-of-the-mill type of theater company.
"The opposite thing would be to not support (Green Thursday) and theater would fall by the wayside," Wyer said. "Otherwise we'd all be doing shows like 'South Pacific' and 'Oklahoma' because they're safe.
"It'll be worth the while - there are not that many shows about sex crimes against Santa."
Maggie Burnett can be reached at catalyst@wildcat.arizona.edu.
INFOBOX: Green Thursday Theatre Project's "The Eight: Reindeer Monologues" opens tomorrow at 7 p.m. at Club Congress, 311 E. Congress St. The show runs Thursday through Saturday for the next three weeks. Tickets are $10 general admission, $8 for students and seniors. Call 795-4322 for reservations. For mature audiences only - 18 and older.