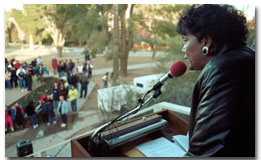 AARON FARNSWORTH
Dr. Saundra Taylor, UA vice president for campus life, addresses the gathered crowd at the Martin Luther King Jr. march in front of Old Main yesterday morning. The police-escorted, 8 a.m. march was attended by over a hundred students, faculty, and other Tucsonans.
By Ayse Guner
Arizona Daily Wildcat
King's contributions remembered in yesterday's events honoring the civil rights leader
Saundra Taylor was 29 years old when Martin Luther King Jr. was assassinated.
Taylor, UA vice president for campus life, remembered being in a laundromat as the staggering news struck her on April 4, 1968. She was attending Ohio University, where she lived in a small black community.
She reflected on feeling scared and alone that day.
"It was a sense that everything was lost," she said as she marched through the University of Arizona campus yesterday, along with more than 250 members of the Tucson and UA community, to honor the civil rights leader.
Taylor's march for eliminating racism began much earlier though, when she attended DePauw University in Greencastle, Ind., in the 1960s and became a member of the NAACP, she says. There were 12 black students in her college and she recalled her friends being turned away from barber shops because of the color of their skin.
"It wasn't until months later I recognized King's death meant something," she said.
To accomplish justice, there needs to be action, and even though one person could do a lot, the rest could help preserve that philosophy, she added.
This is the ideal she carries on to this day, even to the UA campus.
Despite the fact that the UA's history has been tainted by hate crimes, Taylor said, she never lost a bit of her hope from the new generation to continue the legacy once started.
"King's legacy is important today as it was important 34 years ago," Taylor said as she thanked students that came to celebrate the King/Civil Rights holiday. Arizonans passed a vote approving the holiday in 1992, celebrating King's birthday.
The Dr. Martin Luther King Jr. march, which began at 8 a.m. yesterday on the west side of Old Main, united UA faculty, staff and students with citizens from all around Tucson. The event began with a speech from UA President Peter Likins' to honor the day.
King was a leader who "showed great courage that we can barely understand today," Likins said to the crowd. The new generations tend to learn about King's accomplishments either from history books or grandparents who have a story to pass on, he said.
Gathering at a university would help with sharing memories, celebrating who King was, respecting his legacy and carrying on his tradition, he added.
The attendees not only shared their memories of the civil rights movement, but also mixed in other political arguments - which ranged from condemning the bilingual-education-related Proposition 203 to opposing President-elect George W. Bush's choice of John Ashcroft for attorney general.
Slogans could be heard throughout the groups of marchers, all inspired by King. Elementary school students ambled with carnations in one hand and cardboard signs with King's photo pasted on them in the other.
The voices of UA students were loud as their songs reflected on justice, equality and peace throughout Tucson streets.
"I believe it's important for us as people to carry on the traditions of our ancestors," said Laval Malachi, a communication senior. "It is days like this that teaches about the struggles of the past."
Malachi, who was born and raised in south Phoenix, said he enjoys the diversity that the UA campus has to offer him, but the community needs to improve in understanding other heritages.
"UA has diversity, but are you really? We care about minority, but do we really?" he said.
"If you don't know about African-Americans, you might perceive me different," he said. "We need to look at our system and ask ourselves (about) the diversity as something we need to honor."
Teaching and learning are two factors that will enable students to learn more about the past, said Naomi Jorgensen, a Spanish senior who heard about the march only after she took a class in African-American studies.
"It changes your entire perspective," she says about her class.
Jorgensen's message to the UA community is to act upon a new sign, idea or person and learn about it, she said.
The marchers continued their celebration until reaching Reid Park, 900 S. Randolph Way.
The next Martin Luther King Jr. awareness program will bring Rev. Samuel "Billy" Kyles to campus tomorrow to talk about the legacy of the Nobel Peace Prize-winning civil rights leader.
The speech will begin at 12 p.m. at the Martin Luther King Building, 1322 E. First St.