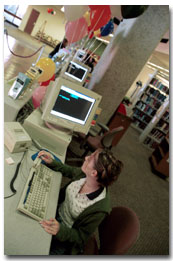 ERIC M. JUKELEVICS
Fine art junior Andrea Alfonso works the new circulation desk in the UA Main Library Sunday afternoon. The improved circulation desk and media are just part of the renovations that have lead to improved organization in the newspaper and periodicals section.
By Blake Smith
Arizona Daily Wildcat
Circulation desk, multimedia area complete, offer students more space
The opening of a new circulation desk and multimedia area last week are the first signs of a major facelift currently underway at the Main Library.
Since September, construction crews had been renovating and moving sections of the east side of the library's lobby to prepare for the ultimate creation of the Information Commons, a 12,000 square foot, technologically-superior area connecting the underground Integrated Learning Center and the library.
Carrie Larson, UA library specialist, said the biggest change for the circulation area is that now short-term checkouts - newspapers, microforms and other media - and long-term checkouts - textbooks - will now be made at one desk in the lobby.
Besides the new circulation desk, there are now more study tables, a better organized newspaper section and expanded office space for library workers on the east side of the lobby.
"The library was using a lot of room for newspapers and journals," Larson said.
She added that there are viewing rooms for microforms and an area for students to defend their doctoral works in the back of the renovated area.
Sophomore David Tennent said that, as a media arts major, the renovation and return of the microforms to the main floor is welcome news.
"Last semester, I had a project to do for a class," Tennent said. "There were 200 people in the class crowded down on the first floor of the library trying to use three microfiche. It took us over an hour."
About 10 study tables have been added in the area to alleviate such overcrowding on the upper levels.
Finance sophomore Justin Goldblatt said the expanded study area could offer a quiet place for students to concentrate.
"(The library) is just a big social place," Goldblatt said.
Construction crews are now focusing their attention on adding a fifth floor to the west pod of the library for administrative offices.
The library will be holding a drawing Friday to celebrate the opening of the renovated area and will be giving away UA men's and women's basketball tickets, photocopy cards and other prizes.