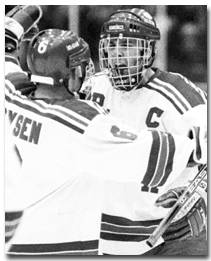 MIKE LARSON
Forward Joe Boysen and center Marc Harris (right) celebrate following a goal Saturday at the Tucson Convention Center. The No. 6 Icecats outscored Towson 6-2 and 4-2 in two-game series.
Arizona Daily Wildcat
Icecats lose senior forward for second time this season
It wasn't pretty, but the No. 6 Arizona Icecats won two games at home this weekend over Towson University to remain undefeated at home for the season.
Arizona dominated the first game, winning 6-2 in a physical contest that featured two disqualifications. Saturday's game was less physical, but the Icecats managed to put the Tigers away 4-2.
Just seven seconds into Friday's game, a Towson player skated into Arizona goalie Jason Morgan. Icecat senior forward "Dirty" Ed Carfora then got into a fight with Towson captain Eddie Stockbridge, and both players were ejected from the game.
On Saturday, both players learned they had been suspended by the American Collegiate Hockey Association for two games. This branded Carfora ineligible for Saturday's contest and will keep him out of the Icecats' first game against Michigan next weekend.
"It's tough for Eddie (Carfora) and for us," UA senior defenseman Ty Brush said. "You only have so many more home games. He is a senior. He is a vital part of our offense."
"He is a real stand-up guy, and when push comes to shove, he is the guy that steps up and scores big goals for us. So luckily we'll get him back for the second game against Michigan," Brush added.
After the fight had subsided, the Icecats went to work. Senior forward Paul Dorn and junior forward Mike Graves combined to score the Icecats' first four goals. Graves had two in the first period, while Dorn had one in the second and one to start off the third.
After a Towson goal, the Icecats tacked on two more to put the game out of reach. Freshman forward Billy Veasey finished the scoring for the Icecats by netting his second goal of the season midway through the third period.
"They came out to try to play physical," UA junior forward Kyle Neary said. "And we took it to them."
Towson did not play as physically intensive on Saturday night, and their strategy seemed to work for awhile.
The Icecats jumped out to a 1-0 lead on a power play goal by Neary in the second period only to watch Towson tie the game up at 13:21.
While the Icecats took the lead off a goal by Brush, it took Towson only 11 seconds to tie the game up at two goals each. Arizona and Towson left the ice in a 2-2 tie after the second period.
The Icecats came out skating hard in the third period, and Kyle Neary scored his second power play goal of the game at 5:36. Four minutes later, senior forward Kyle McNeilance added an insurance goal to put Arizona up 4-2.
Icecats head coach Leo Golembiewski said the play of one of his co-captains was the difference.
"Tyler Brush is just a tremendous co-captain," Golembiewski said. "He is a defenseman. They're a little more grittier. He just gives you a solid 60 (minutes) every game."