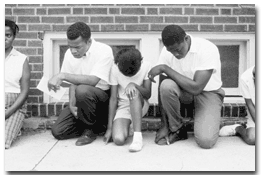 Photo courtesy of CCP.
Danny Lyon's 1962 photo of a civil rights demonstration is among the collection of civil rights photographs now showing at the Center for Creative Photography. Other photos focusing on the theme of racial oppression are on display at the CCP today only.
Arizona Daily Wildcat
UA professor to speak on racial violence
The Center for Creative Photography, along with the department of African American Student Affairs, will commemorate the ideals of Dr. Martin Luther King, Jr., with a lecture and one-time viewing of select civil rights photographs today.
Jeanne Courtemanche, communications director for the CCP, said she hopes the exhibit, which falls one week after Dr. King's birthday and less than two weeks before the start of Black History Month, will act as a bridge between the two events.
The photos on exhibit include subjects such as protests, black oppression in the 60s, hate groups and concentration camp scenes by a variety of photographers.
One Ansel Adams print depicts Manzanar, a Japanese-American concentration camp of World War II. A Richard Avedon photo shows poor farm workers with Cesar Chavez.
"We are going into Black History Month, and this (exhibit and lecture) is a way to reach out to different entities," said Carlene Franklin, interim program coordinator for the African American Student Affairs department. "It's a way of including everyone on campus. Dr. King was for everyone - he was for inclusion."
At 3:30 p.m., political science professor James W. Clarke will speak on the topics of lynching, capital punishment and the subculture of violence in the American South in the CCP auditorium.
In a passage from Clarke's lecture, he states, "To understand the violence between races, one must take into account culture and history. Too often we have not."
Clarke has taught at the University of Arizona since 1971. Many of his popular courses are on race and public policy, violent crime and political order. He is the author of many articles and four books on criminal and racial violence.
A selection of photographs will be on display at 2:30 p.m. in the CCP's second-floor print-viewing room for attendees to peruse. Both the lecture and exhibit are open and free to the public.
An ongoing exhibit of additional civil rights photographs by Danny Lyon and Dan Weiner are currently on display in CCP's boardroom.
This special event is presented as a part of CCP's 25th anniversary.