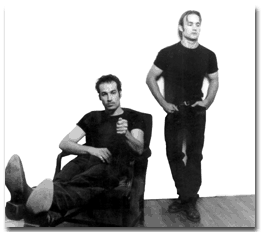 The acoustic-rock duo Hector on Stilts is performing today at noon in The Cellar. The band released its debut album, Pretty Please, last year.
By Adam Pugh
Arizona Daily Wildcat
Local band returns to Tucson to play The Cellar today at
The acoustic rock duo Hector On Stilts returns to Tucson after an extensive tour through Europe. The band will play today in The Cellar, in the Memorial Student Union, for its first date at the UA since fall 1998.
"The Cellar is great because people come and they listen," said Clayton Colwell, one-half of the local duo.
The band was formed when cousins Clayton and Jeb Colwell began playing together at the age of 13. Since then the band has expanded, recently adding drummer Bruce Halper, an ex-member of local band The Sidewinders.
Although Hector On Stilts has been writing songs since 1988, it finally recorded its debut album, Pretty Please, last year.
Clayton Colwell said he and Jeb discovered their shared love of music while growing up back in high school.
After graduation, the two went their separate ways. Clayton Colwell went to Washington to study at Whitman College, and Jeb Colwell went on to study Spanish at the University of Arizona after traveling abroad. While apart, they swapped tapes through the mail of songs each had written.
Following his graduation from UA in 1997, Jeb Colwell traveled to Spain. While there, Clayton Colwell paid him a visit, and finally Hector on Stilts took form.
Clayton Colwell said the band's name originated from the term "hector," a person who threatens or bullies. A "hector on stilts," he said, would be a person who is out in the open and vulnerable.
The band's songs, Clayton Colwell said, are about "perseverance through failure," an idea he said was expressed through the band's name.
Although the group's songs gravitate toward darker themes, Clayton Colwell said the band enjoys playing more lighthearted songs.
"Jeb writes songs that are more tongue in cheek, like 'Rotten.' We both enjoy playing those (happier) songs," he said.
Clayton Colwell said the rest of the songs the band writes focus on the troubles the duo have had in their own lives, including issues from growing up and classic love songs.
He added that the band has written new songs for an album which is scheduled to be put together in the next year. The length of the new album would be a bit shorter than the current release, Clayton Colwell said.
"We have eight or nine songs we want to record for the new album," he said.
With hopes for more exposure, Clayton Colwell said the band plans to schedule more gigs up along the East Coast and is looking for a company to distribute its new album. However, for now, he said he just wants the band to get more recognition outside of Arizona.