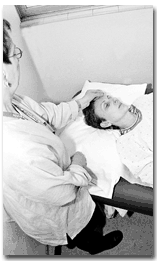 RANDY METCALF
Catherine Travis (standing), a UA Campus Health acupuncturist, and registered nurse Francine DeLeon show the locations on the body where acupuncture can be used. Appointments for acupuncture can be scheduled through Campus Health at 621-6490.
Arizona Daily Wildcat
Acupuncture about as effective as therapy, drugs, specialist says
Two years after researchers discovered that acupuncture alleviates symptoms of depression in women, UA psychologists have launched a wider study of the ancient Chinese procedure and its effect on patients.
The promising results of the first small study encouraged the researchers to look more closely at whether acupuncture can be used along with traditional treatments - such as psychotherapy and drugs - to lighten the often-debilitating effects of depression, a condition that afflicts one in five women.
"We found that individually tailored acupuncture treatment for depression provided relief of symptoms in about 75 percent of the women we treated, which is comparable to psychotherapy or medication," said Rosa Schnyer, acupuncturist and principal research specialist in the UA psychology department.
The University of Arizona study, published in the journal American Psychological Society, consisted of 33 women diagnosed with mild to moderate depression.
Because of the small number of test subjects in the first study, the UA team's findings were not conclusive, Schnyer said.
She added that a clinical trial now underway, involving 150 men and women, should give an indication of whether the treatment gains in the smaller study are maintained.
Depression is common, afflicting about 10 percent of men and 20 percent of women. It can result in feelings of hopelessness, relationship problems, decreased productivity and suicide.
Conventional treatments include psychotherapy and medication. Fifty percent to 70 percent of patients who complete those treatments see significant improvement.
But one-third of patients stop taking their medication or seeing their psychiatrist because of dissatisfaction with the treatment or its side effects, said John J.B. Allen, an associate professor of psychology and the UA study's lead author.
Researchers like Allen and Schnyer wonder if acupuncture might fill some of those gaps in treatment.
The ancient Chinese tradition, involving the insertion of fine needles into the arms, legs, back, ears, feet and hands, could work in conjunction with conventional approaches, Schnyer said.
"We may be able to determine if other treatments such as acupuncture may complement the effect of either drugs or therapy, or may provide an
alternative for people who can't take drugs or who are resistant to
psychotherapy," she said.
Catherine Travis, a licensed acupuncturist at UA Campus Health, said she treats students from many different backgrounds - from freshmen adjusting to a new campus to Ph.D. students stressed out about an overwhelming workload - often with successful outcomes.
"I recommend it most highly," Travis said. "There's a very good chance it will help and it can't hurt you - it's a stress reducer if nothing else."
The treatment of depression with acupuncture is a field still in its infancy, so definitive answers may take awhile.
"When we proposed the study, there had been nothing like it before,"
Allen said. "There is now considerable government funding to investigate alternative treatments of all varieties, and I predict we will see more and more controlled research trials in alternative medicine."
In addition to the larger trial currently in effect, Allen and Schnyer are working with a Stanford University psychologist on a study of acupuncture for depression during pregnancy, and a comparison of acupuncture and Paxil,
an antidepressant.
As for acupuncture's future in the medical world, Allen says he is confident.
"There is reason to be optimistic given that it has survived for over 3,000 years," he said. "The fact that acupuncture has survived that long tells us that it is well-tolerated, it produces few worrisome side effects and it may in fact be helpful."
Students interested in participating in the current study can call 626-5400 for more information.