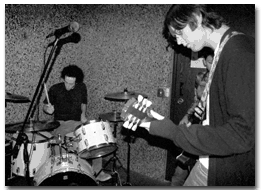 BEN DAVIDOFF
Media arts graduate Andrew Skikne (back), fine arts senior Lisa Fowle (back right) and history senior Matt Lewon of the Quadratics rehearse their music set in a gutted apartment building yesterday. The Quadratics will perform this Friday at 4 p.m. at the Tucson Underground Arts Festival.
By Adam Pugh
Arizona Daily Wildcat
Quadratics looks past fame, hopes to play more around town
Whoever said that making music required purchasing an instrument was wrong.
When Matt Lewon and Andrew Skikne formed their band, the Quadratics, music came first - instruments were a close second.
"I didn't even have a drum set," said Skikne, the drummer for the local band. "He (Lewon) had a box, and I had a pair of sticks - that was it."
With no prior drumming experience, Skikne, a University of Arizona media arts graduate, used the rhythmic skills he picked up in his spare time to become the driving force behind the music of the Quadratics.
A self proclaimed "indie cock-rock band," the Quadratics are looking for more than fame.
"I am not trying to be a rock superstar," said Lewon, a history senior. "For me, music is a release."
Even though the two core members of the band worked at Centennial Hall together for more than a year, they did not meet there. Not until Lewon put a classified ad in the Arizona Daily Wildcat did the two finally get together.
The pair began practicing together, eventually coming up with six songs they felt comfortable playing, and recorded a demo tape in February. Skikne said he was able to provide the equipment necessary to record the band's demos.
Lisa Fowele, a bassist from Phoenix, was added to the lineup after a mutual friend told Lewon about her. The new group recorded a two-song demo which it will use to advertise most of its concert dates.
Skikne and Lewon said that in other cities, local bands seem to stick together, helping each other and continually being supportive of one another. Yet to them, Tucson seems to be different.
"I don't get the feeling of a real helpful attitude (from other bands)," Lewon said. "There is no real sense of community."
Despite this feeling, Lewon said the band has maintained a strong following. He added that their fans tend to be different than those of their musical counterparts.
"The other bands have all of the girl fans," Lewon said. "As soon as we go on, all of the guys come out, and the girls leave."
However, he said the band's music is aimed at both genders, not just the male crowd.
"I hate the sexism that is in music today," he said. "I want it to be like bands in the early '90s where gender did not matter. It's about the music."
Since they started playing in town, Skikne said there has been a high turnover among music venues making it difficult for local bands to get on stage.
"There are not that many places for us to play," Skikne said. "When venues close, it is one less place we have to play. In Tucson, that means a lot."
When the band does find venues, unforseen circumstances can further complicate the performance. During one of their concerts fall semester at Park Student Union, it rained and the band was forced to move inside.
"I was playing with the smallest sticks I have, and they (students in the union) still asked me to turn it down," Skikne said.
"Even kids from the study area were coming out to tell us to keep it down," Lewon added.
While the band has sent out more than 40 demos to record labels across the United States, the band said it will continue to play locally. Hoping for future success, the Quadratics want to take their music abroad.
"We need to get somebody, or a label, that can help us with our recording and touring," Skikne said. He added that the band is surviving on their own in the local music scene without outside support.