By Arek Sarkissian II
Arizona Daily Wildcat
Tuesday Feb. 19, 2002

University employees say they have mixed feelings about effectiveness of a union at protecting raises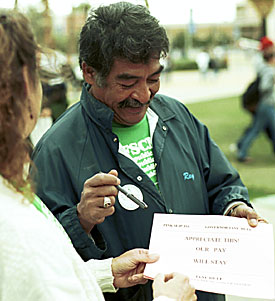 DEREKH FROUDE/Arizona Daily Wildcat
Carol Krismer, a comparative cultures and literature graduate student, distributes flyers and stickers with Field Services Director Ray Figueroa outside the Administration building yesterday to protest possible state raise cuts. The protest was organized by supporters of a university-wide union for all employees below the department-head level.
About 100 supporters of the "wall-to-wall" unionization of UA employees rallied yesterday in front of the Administration building to voice their concerns on pay-raise distribution.
Although both union supporters and President Peter Likins agreed that the Arizona Legislature needs to maintain the raises - which recently came under fire when Gov. Jane Dee Hull asked the lawmakers to eliminate them - the general idea of a university union generated mixed reactions from employees.
A group of University of Arizona employees has been pushing to form a union that would encompass all workers below the department-head level.
The possible elimination of the pay raises sparked concern among those employees, who have said that forming a union would help improve salaries for workers across the university.
Leaders of yesterday's rally said their focus was both on the university administration and the state government.
"I want the people in this building and at the Capitol in Phoenix to hear that it is about fairness, respect, and that it's about time," said Linda Bolkhe, American Federation of State, County and Municipal Employees representative.
UA President Peter Likins said he heard them, but he wasn't sure why they wanted to attract his attention.
"I'm spending a good amount of time in Phoenix saying the exact same thing that employees are saying - save the raises," Likins said. "I'm glad they're rallying, but who is their message to?"
Union supporter Jeff Imig disagreed, saying Likins does control the distribution of the raise to faculty and staff members.
Representatives from the local steelworkers' and roofers' unions were on hand to show their support for the cause.
Union supporter Ted Downing said the state government has several ways to maintain the raises.
"There is $3.6 billion in tax exemptions that people have used to build companies off of," said Downing, a research professor of social development. "It's time for them to pay their share instead of the university."
Although UA workers have said they are disappointed they may not get the raises, they had mixed reactions as to whether a union is the most effective way to fight for them.
Imig said that fewer than 2,000 cards have been signed by university staff who favor the union.
Lori Magloire, administrative assistant for the finance department, said her experience with a union while working at a prior job was beneficial, but the costs unions bring could be out of reach to employees that are already struggling.
"There's some people working at the university who are only making $18,000 a year; how are they going to afford union dues?" Magloire said.
One employee's prior experience with a union left her opposed to the idea of starting one on campus.
"I was a brand new teacher in a school that was unionized, and they lost so much ground within the community," said Mary Repola, a fine arts administrative assistant. "They started comparing teachers to garbage workers."
Custodial worker Maria Cervantes said she was still on the fence as to whether she was in favor of unionization.
"It all depends on what the state does with our raises," Cervantes said.
She said the state's decision on the pay raises will also decide whether she will continue to work at the university.