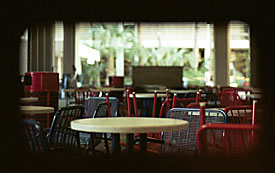 DEREKH FROUDE/Arizona Daily Wildcat

Chairs and tables of the new library snack bar, the Book Ends Cafe, will be filled by hungry students sometime this spring. The eatery will become the eighth campus "food stop" operated by Arizona Student Unions.

By James Kelley
Arizona Daily Wildcat
Tuesday Feb. 19, 2002

Book Ends to provide bagelry, espresso bar and convenience store

As improvements to the Main Library continue, the opening day of a new food service addition is less than a month away.

Construction is already complete on the eatery Book Ends, which is located next to Special Collections and is scheduled to open March 15, said Jim Fromm, facilities and property monitor and senior program coordinator for the library.

It is a bagelry, espresso bar and U-Mart convenience store. The bagelry will compensate for the one that closed in the old student union, because there was no room for it in the new union.

Book Ends will become the eighth Arizona Student Unions convenience store and food stop. It joins the food stops at the Aerospace and Mechanical Engineering building, 1130 N. Mountain Ave., the Electrical and Computer Engineering building, 1230 E. Speedway Blvd., and McClelland Hall, 1130 E. Helen St., among others.

"The library took on all the construction costs, provided the furniture and we will outfit it and make it operational and cost-effective," said David Galbraith, dining services director and assistant director of Arizona Student Unions. "We expect it to be every bit as successful as McClelland, the most popular," he said.

One of the reasons Galbraith expects Book Ends to be successful is its location next to the recently completed Special Collections addition.

"It sounds really good," said Rachael Poulsen, a philosophy graduate student who works in the library. "It is a perfect location for me, so I'll probably be in there every day," she said.

Even though Book Ends is part of the library, there was no concern about food and drinks near library books because potential problems were accounted for during construction.

"We dealt with the potential water and bug problem during construction, making sure it was sealed off, so there was no controversy," Fromm said.

Some felt the idea of a food stop in the library was somewhat unusual but could become successful.

Book Ends will likely be open 7:30 a.m.-10:30 p.m. or 11:00 p.m. on weekdays and will open before noon on weekends, Galbraith said.