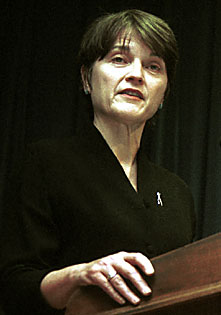 MATT CAPOWSKI/Arizona Daily Wildcat

Sylvia Nasar, author of "A Beautiful Mind," speaks yesterday afternoon at the DuVal auditorium in UMC. Nasar spoke of her experiences working with John Forbes Nash and answered questions from the audience.

By S.M. Callimanis
Arizona Daily Wildcat
Tuesday Feb. 19, 2002

Writer calls movie's subject 'haughty, weird and spooky'

The author of "A Beautiful Mind," the biography of mathematician John Nash and the basis for the Oscar-nominated movie of the same name, recounted the life of the Nobel Memorial Prize winner to a crowd of 500 at UMC yesterday.

Sylvia Nasar, economist and professor of journalism at Columbia University, received the seventh annual Schorr family award at University Medical Center for her "contribution in furthering public understanding of mental illness" with her biography on Nash, a man she said was "obsessed with originality (but) disdained by authority."

Nasar's book delves into the complex life story of Nash, a brilliant mathematician who suffers schizophrenia and "couldn't understand why I would want to write a biography on him and not a history of mathematical economics," she said.

But after learning about his nomination for a Nobel Memorial Prize in Economic Sciences and his colorful history as one of the most influential minds of economics, Nasar said, "the amazing third act of his story is what drew me in." She wrote a New York Times story on Nash in 1994 that eventually grew into a book in 1998 and became the inspiration for the 2001 film.

Nash, who was an intellectual oddball, a "haughty, weird and spooky" character at Princeton University in the 1950s, wrote his Nobel-prize winning work at the age of 21, a theory that his colleagues called "the most trivial thing he ever did," Nasar said.

Soon after that, Nash's mental health began to decline. He saw himself as "a messianic figure of great-but-secret importance," and, despite his frequent hospitalization, he did not believe himself to be ill, only "persecuted by his wife, his colleagues, by aliens from outer space," Nasar said.

With modern drugs unavailable at the time, treatment for Nash's illness was minimal and the available drugs only mildly assuaged few of the symptoms of schizophrenia. However, Nash is in the minority of sufferers in that he overcame his illness 20 years after he was first struck by it.

Nash's story is "a testament to fierce loyalty," said Nasar. "He did not wind up homeless, in jail, or (victim to) a suicide, like so many who suffer from schizophrenia," but he was cared for by his family and friends and was able to overcome his illness only with their support.

Now that Nasar's book has been turned into an Oscar-nominated film, Nash is receiving more recognition than he ever has before, "recognition that has not only redeemed the man but turned him into something of a cultural hero," Nasar said.

Nash shared his reactions to the Hollywood version of his life story with Nasar, saying that he "'loved the humor,' 'was relieved not to be bored by it,'" and admitting that lead actor Russell Crowe "'did look like me.'"

"Even if the movie does not win an Oscar," Nasar said, "Nash's triumph, (wife) Alicia's loyalty, and the loyalty of Nash's friends are inspirational to others whose lives were wrecked by mental illness."

Even though Nash never cooperated outwardly on the writing of his biography, he never dissuaded Nasar from her work, allowing his family members to be interviewed and talking openly with her at academic meetings and other occasions.

Arizona State Attorney General Janet Napolitano, in attendance at the speech, was confident that Nasar's work did great things for the exposure of the mentally ill population, saying "unless we deal with mental illness in a health atmosphere, we're never going to solve it in a prison atmosphere."