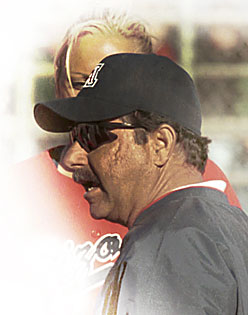 Photo by Kevin Klaus/Arizona Daily Wildcat

By Brandon Johnson
Arizona Daily Wildcat
Tuesday Feb. 19, 2002

Candrea's influence spreads beyond the fences at Hillenbrand Stadium

Walking into Arizona head softball coach Mike Candrea's office is like walking into a mini softball hall of fame.

The walls are adorned with every kind of trophy imaginable, from national championships to individual accomplishments.

On his hand is a national championship ring with a massive ruby that would make any grandmother jealous - and that's just one of the six he owns.

In his 17-plus years at Arizona, Candrea has compiled a record of 883-174. His .835 winning percentage puts him second all-time among Division I coaches.
---
"I may not have one of these kids tomorrow, so what can I do to make an impact on them today?"
- Coach Mike Candrea
---
While Candrea has been successful at the highest collegiate level, like many coaches, he started coaching on a smaller scale.
Candrea began his softball coaching career at Central Arizona College in Coolidge after a friend talked him into moving from assistant baseball coach to head softball coach.
After five years at CAC, Candrea came to Arizona prior to the start of the 1986 season to take over a program in search of a new direction.
Candrea said the team he inherited was good but not as good as he thought it could be.
"I really felt that this could be a great place because of the success they had in baseball," he said.
That first season was his worst at Arizona as the team compiled a record of 27-13-1.
After 1986, Candrea's program took off in a sprint that hasn't stopped yet.
In 1991 the Wildcats finally broke through and won Candrea his first national title.
"I think obviously the first (title) was a tremendous accomplishment for the program," Candrea said. "In an era dominated by UCLA, I thought that was a major accomplishment not just for us but for the sport itself."
Since that first championship, Candrea's teams have been the model of consistency in NCAA softball, appearing in the Women's College World Series final eight times and winning five of those appearances.
In that time span, Candrea has faced many challenges on the field but not the kind that normally plague a coach. While lack of talent hasn't been an issue, getting that talent to perform has been tough at times.
"I thought last year's team was a challenge because I thought we underachieved the year prior," Candrea said. "When we got it all together, it was a great feeling to see the senior class grow up and understand what teamwork is all about."
---
Candrea's accomplishments in the softball world go beyond just his connections with UA.
Over winter break, Candrea was involved with Team USA softball - something he's been a part of several times - and each summer he puts on softball camps for children in fifth-12th grade.
Not only have his camps taught kids softball, but they have been a great way to coach potential UA athletes before they join his team. Two of those players are UA greats Susie Parra and Becky Lemke.
One of Candrea's strongest coaching philosophies is living in the present and not worrying about the past or the future.
He attributes his focus on the present to the loss of former UA player Julie Reitan, who passed away from diabetes in the summer of 1997 following her junior year.
"(Losing Julie) really made me think, 'I may not have one of these kids tomorrow, so what can I do to make an impact on them today?'" he said. "I think if you can get kids to think in the present, then your chances of being successful are much greater."
Another of Candrea's strong points is his commitment to everything he does, whether on or off the field.
Candrea will be the grand marshal for the Tucson Rodeo, which starts tomorrow at Tucson Rodeo Park.
---
In addition to his involvement with the players, Candrea has also shown a high level of commitment to his family.
He has been married to his wife, Sue, for 25 years and has two children, Mikel and Michelle.
His commitment to his players hasn't gone without their recognition. Even the newcomers on this year's team have quickly realized how much he cares about his program.
"Unbelievable," said freshman left fielder Courtney Fossatti about her coach's commitment. "I've never known one man who's put so much into one thing. It's what makes this experience so wonderful.
Candrea's commitment to the team necessitates a lot of sacrifices on his part.
One of those sacrifices is his commute to and from UA. Each day, he travels to work from his home in Casa Grande, which is one hour north of Tucson, and then back home at the end of the day.
"The drive has really been a therapy for me," Candrea said. "It gives me a chance to plan my day coming down and unwind going home. I've gotten so used to it, I think I'd miss it if I got home too quick."
While Candrea is known for his intensity on the field, off the field he has a much more laid-back style.
"(Off the field), he's relaxed," said Candrea's son, Mikel, an assistant coach and a UA senior. "His main thing is doing yard work, and that's his way of getting out of the game. There's definitely a difference from him being at home to the way he carries himself out on the field."
Whatever Candrea's techniques for staying relaxed off the field are, they've certainly worked and kept him interested in the game.
Just 46 years old, Candrea said he has many more years of coaching ahead of him and that he plans to continue doing it as long as he's enjoying it.
If Candrea continues to be as successful as he has been since coming to UA, he will likely finish his career at Arizona as one of the best softball coaches in NCAA history.