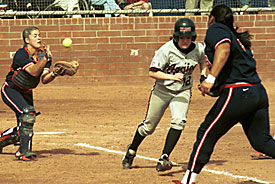 KEVIN KLAUS/Arizona Daily Wildcat

Sophomore catcher Mackenzie Vandergeest fields a foul ball off the bat of a New Mexico player as sophomore first baseman Leneah Manuma runs toward the play last weekend at Hillenbrand Stadium.

By Brandon Johnson
Arizona Daily Wildcat
Tuesday Feb. 19, 2002

Gotta Love it: Junior shortstop Lovie Jung had a breakout tournament this past weekend.

The transfer student from Fresno State hit .500 in five games going 7-for-14 at the plate.

She also scored six runs and drew five walks out of the leadoff spot.

Finding a way: Going into the Pepsi Arizona Softball Classic, freshman left fielder Courtney Fossatti was leading the team with a .552 batting average.

Fossatti managed just three hits in 12 official at-bats last weekend, but that didn't stop her from finding a way to get the job done.

The left-handed slap hitter reached base in eight of her 16 total plate appearances and also scored four runs.

History repeats itself: Sunday, senior Jennie Finch threw her sixth career no-hitter and the 51st in school history.

The no-no was Finch's first since she blanked Oregon State hitters on April 1.

Jennie's performance moved her into a three-way tie for second place with former UA players Debbie Day and Becky Lemke on the school's all-time no-hit list.

Susie Parra is UA's career leader with eight no-hitters.

As a team, Arizona has thrown a no-hitter every year since 1987 with the exception of the 1996 season.

Open door: Prior to the start of the season, Arizona head coach Mike Candrea told his young team everyone would have their chance to play throughout the course of the season.

Candrea has kept his word to his players by using nine different batting orders in the first 14 games.

In addition, he's given 12 of his 14 active roster members at least one start.

Power Surge: Last season, Arizona broke its own single-season record for home runs, hitting 126 bombs, good for an average of 1.83 per game.

Losing 69 of those home runs to graduation had many people thinking this year's team would be hard pressed to produce the long ball.

That hasn't been the case, though, as the Wildcats have clubbed 19 homers this year, good for a mark of 1.35 homers per game.

Sophomore pitcher/designated player Jenny Gladding and sophomore first baseman/designated player Leneah Manuma lead the way with five apiece, followed by Finch with four and freshman third baseman Jackie Coburn with three.

Rock steady again: The solid fielding that was a staple of last year's national championship team returned to the field this weekend.

After committing nine errors in their first nine games, the defense was perfect in all five games over the weekend.

In addition, Coburn and junior second baseman Lisha Ribellia each turned in a gem of a defensive play.

Coburn climbed the ladder during a crucial part of Saturday's game against Auburn to bring down a high chopper headed for certain extra bases. She followed that up with a strike to Manuma at first.

Ribellia made her play on a line drive to her right which she picked out of the dirt on the short-hop to help keep Finch's no-hitter intact.