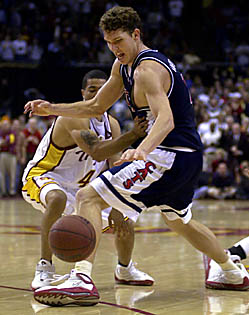 Associated Press

UA junior forward Luke Walton loses control of the ball after the ball was tipped by Southern California's Robert Hutchinson, left, during the second half in Los Angeles on Saturday.

By Jeff Lund
Arizona Daily Wildcat
Tuesday Feb. 19, 2002

Wildcats regrouping after SoCal sweep

Upsets, buzzer-beaters and blowouts seem to be the theme this year in the Pacific 10 Conference.

Last weekend was no different.

First place was taken from the Wildcats as quickly as it was given.

Following losses at UCLA and USC - two games that could have easily ended up as wins for Arizona - the Wildcats again find themselves in need of big wins to get back in contention for the Pac-10 title.

"We should have won the UCLA game," head coach Lute Olson said. "To their credit, they came back. With USC, they outplayed us with the exception of 3-point shooting."

Ironically, while Arizona had one of its best 3-point shooting weekends of the year, it was the 3-point shooting of Arizona's opponents and a controversial traveling call that doomed the Wildcats.

In Thursday's game, it was UCLA junior forward Jason Kapono who won the game for the Bruins on a wide-open 3-pointer with 19 seconds left.

Saturday, the game was decided by the pivot foot of junior guard Jason Gardner.

"I don't think I (traveled)," Gardner said. "But the call was made."

Olson said the call - which was made against Gardner moments before he hit a 3-pointer that would have tied the game with under five seconds remaining - was accurate.

"The replay on TV didn't show the whole thing," Olson said. "The call was the correct call."

Were it not for those two plays, Arizona might still be in first place.

But junior forward Luke Walton said he is not about to dwell on the past and pointed to the fact that there are three important games remaining.

"It was real hard (not winning on the road trip)," Walton said. "We are beyond that now. If we win these next three games, we have a great shot (at the Pac-10 title)."

Walton and the Wildcats will now focus their attention on games against ASU, Stanford and California.

Fortunately for Arizona, all of its remaining regular-season games will be played in McKale Center, while the five teams ahead of UA - Oregon, California, UCLA, USC and Stanford - all have at least one road game remaining.

"It is a big week for us," Olson said. "It is a big week for a lot of teams. We are fortunate that we have our last three games at home."

Though the regular season is nearly over, seeding for the Pac-10 tournament is as up in the air as it has been all season.

Olson said every game in the next two weeks will have a bearing on the crowning of the regular-season champion.

"Teams that are bunched up at the top will be meeting one another (during) the next two weeks," Olson said. "Especially next week."