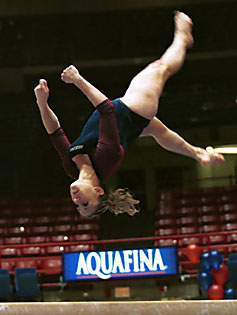 ERIC M. JUKELEVICS/Arizona Daily Wildcat

Freshman Monica Bisordi flips on the balance beam earlier this season in McKale Center. The Gymcats lost to Oregon State last weekend despite posting their second-highest team score of the season.

By Brett Fera
Arizona Daily Wildcat
Tuesday Feb. 19, 2002

The No. 11 Gymcats were handed their second Pacific 10 Conference defeat of the season on Friday at the hands of No. 21 Oregon State.

The Wildcats fell to the Beavers (4-3-1, 2-1-1 Pac-10) by a team score of 196.475-195.475 to drop their overall record to 7-3, 2-2 in Pac-10 competition.

Despite the team loss, Andi McCabe and Randi Liljenquist each claimed individual titles to pace Arizona to its eighth-highest team score in school history.

McCabe, a sophomore from Bensenville, Ill., claimed her fourth vault title of the season (9.875) while Liljenquist, a senior and local native, won her second beam title of the year with a season-high 9.900. Liljenquist also finished third in the all-around event. McCabe is currently ranked fourth nationally in the vault.

This was the first team vault title not won by Arizona this season, with the Wildcats claiming the first nine up until Friday. The Gymcats came into Friday's meet ranked No. 1 nationally for team vault average per meet.

Senior Lindsay Compitello was pleased with the performances, despite not earning the victory as a team.

"This is a definite positive for us," Compitello said. "We might not have won the overall event, but this was still our best meet of the season. We have good momentum as we get ready for the next meet."

Also contributing strong performances for Arizona were junior Nikki Beyschau and freshmen Katie Johnson and Monica Bisordi. Johnson, ranked No. 4 individually on floor exercise, finished tied for third in the event with Liljenquist, scoring a 9.850. Bisordi placed third in the all-around with a score of 39.425 while Beyschau finished fourth on vault with a season-high 9.800.

"I am proud of how they handled themselves and how well they competed," head coach Bill Ryden said. "We can't control how other teams perform, only ourselves. If we keep performing like that (against Oregon State), I feel good about our chances in any competition."

The Wildcats look to regroup this week when they return home on Friday to play host to Washington at 7:30 p.m. in McKale Center.

The Huskies are coming off an upset victory over No. 16 Arizona State on Friday night in Seattle.