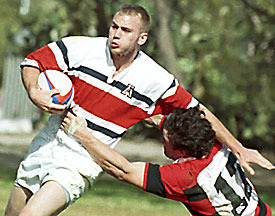 ERIC M. JUKELEVICS/Arizona Daily Wildcat

Sophomore wing Pat Marek fends off an opponent in a match earlier this season agains Utah at Estevan Park. UA has lost its last three conference games.

By Charles Renning
Arizona Daily Wildcat
Tuesday Feb. 19, 2002

Two tries are all that separate the Wildcat rugby team from leading the SoCal Conference and being in great position to make the playoffs.

Since they didn't get those two tries, they are now 1-3 in the conference and on the outside looking in on the postseason.

UA (3-7, 1-3) has lost its last three conference games by a combined 13 points, including two games in Southern California this past weekend to San Diego State and the University of San Diego.

"We have good athletes and good people," said head coach Dave Sitton about his team. "But they haven't been able to click as a team.

"The scores tell you that we've been in every game," he said.

On Friday, the Wildcats jumped out to an early 12-0 lead on SDSU with tries by senior wing Pat Marek and freshman fly half Mark Gallo. However, they were unable to keep the Aztecs out of the end zone in the first half and went into the locker room up 12-7.

The second half was a much different story. SDSU scored 17 unanswered points and jumped out to a 24-12 lead.

The Wildcats tried to make a comeback in the final five minutes of the match but fell short 24-17.

"If we'd have played the entire game the way we did in the last five minutes there's no doubt in my mind we win," Sitton said.

On Sunday, UA saw more of the same.

Under a light drizzle, the Wildcats fell behind in the first half to USD, a team they beat last season 96-0, and trailed at half 19-5.

In the second half, the Wildcats dominated on the offensive side of the ball but had trouble scoring in the red zone. On three different occasions, UA had the ball inside the five-yard line and came away with no points.

Arizona was able to pull the score to 19-17, but could never overtake the Tritons.

"We are not plummeting (as a program)," Sitton said. "We're just not winning."

Sitton called the team's chances of making the playoffs "extremely remote" but added that they are not mathematically eliminated yet.

The Wildcats do not play next weekend but will return to action on March 1 when they take on UCLA at Estevan Park.