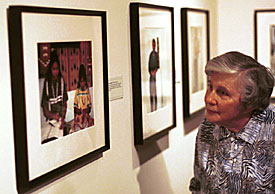 DEREKH FROUDE/Arizona Daily Wildcat

Mary Ann Parker, a retired teacher from Tucson, is drawn into the photography of local photographer Mary Goodman yesterday afternoon at the Arizona State Museum. Goodman's work, featuring American Indian artists, is currently on exhibition at the Arizona State Museum.

By Paul Iiams
Arizona Daily Wildcat
Tuesday Feb. 19, 2002

As part of its annual Southwest Indian Art Fair, the Arizona State Museum features a photographic exhibit titled "Artists Among Us," by local photographer Mary Goodman.

The exhibit will be on display in the Paths of Life Reading Room at the Arizona State Museum through March 15.

The exhibit portrays American Indian artists and the works for which they are known. Each photograph in the exhibit shows a different genre of artistic expression, ranging from Tohono O'odham basketmakers Natalia and Malaya Antone to Navajo writer Luci Tapahonso, a University of Arizona professor of American Indian studies and English and award-winning author of "Blue Horses Rush In."

Having such diversity in the exhibit was one of Goodman's goals.

"I wanted a good cross section of the Native American community," Goodman said. "I wanted to get as many (tribes) as possible."

Most of the photographs show the artist and his or her individual creations in an already completed stage. Two of the photographs, however, stand out for their depictions of the artist at work.

"I was able to get them at the time (of them working)," Goodman said.

Each photograph is accompanied by a small biographical story. The placard informs the viewer of the artists' tribal affiliations and their areas of expertise, and some describe the artists' future plans.

Goodman found it fairly difficult to narrow down which American Indian artists should be included in the exhibit.

"A lot of (American Indians) you'll find don't want their faces used because of religious or cultural restrictions," Goodman said. "I need to have them sign model release forms before I can use them."

A wide variety of American Indian artwork will be on exhibit during this weekend's Southwest Indian Art Fair. The addition of Goodman and her work was a natural choice for the Arizona State Museum.

"We thought the exhibit would be a nice companion piece," said Darlene Lizarraga, marketing coordinator for the Arizona State Museum.

Goodman has been studying the art of photography for 27 years. She has honed her photographic skills by taking pictures of such noted public figures as the Queen of England and the Prince of Wales.

"I had never actually met the Queen Mother," Goodman said. "But in 1980, she approached me and asked where I had been all summer. We had a laugh together."

Goodman moved to Arizona in 1989 and began teaching photography classes. She renewed her long-standing interest in American Indian artists soon thereafter. She began photographing them in 1989.

"I wanted to show that not all of them (American Indians) end up in a bad condition," Goodman said.

Goodman, along with many other artists, will be on hand during the fair.

For more information about the Southwest Indian Art Fair or any other museum related events, including times and prices, call the Arizona State Museum exhibit hall at 621-6302.