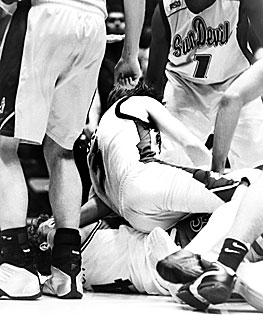 JON HELGASON/Arizona Daily Wildcat

Arizona junior Luke Walton struggles with ASU reserve Kyle Dodd amid a phalanx of onlookers last night in McKale Center. A fight broke out after Walton fouled an ASU player and Dodd jumped onto the ensuing pileup. Dodd was ejected.

By Connor Doyle
Arizona Daily Wildcat
Thursday Feb. 21, 2002

"Hey, I went to an Arizona men's basketball game, and an Icecats game broke out!"

Those words could never have been truer than during last night's game against ASU.

With six minutes left in the first quarter, Luke Walton and a couple of ASU players went to the ground after a loose ball. Somehow, 6-foot-nothing guard Kyle Dodd got in the middle of it and started throwing punches at Luke Walton.

A mini-melee broke out, Dodd got tossed, blah blah blah. In many senses, it was your garden-variety puffing of the chest, but it also meant Arizona fans would get a taste of what it's like to be in the arena when Kansas and Missouri square off, or Duke and North Carolina. When rivalries mean you'll likely be going home with more than just a couple of bruises.

For the next six minutes, anyone who went up for a layup or a dunk ended up on the floor and probably in pain. And no one from the other team was going to pick them up.

Every time someone grabbed a rebound, there were more 'bows flying than there are in a Ludacris video.

When guys boxed each other out, it usually spilled out beyond the baseline.

On one play alone, five guys went to the floor. A couple of them got tangled on the floor, a la Dennis Rodman vs. Karl Malone.

One time, when freshman Isaiah Fox set a back pick on Chad Prewitt, the ASU center ended up eating wood. Was it simply a case of Prewitt being knocked off balance?

"Whenever I get a rebound, or whenever I set a pick, especially when it's an ASU player, I'm trying to hurt them," Fox said after the game.

Guess that means no.

"When I set a pick on (Prewitt), I was trying to give him an elbow. When I got a rebound, and I hit a guy with an elbow, I was trying to do that. It was a pivotal game, and we had to match their physical intensity," Fox continued.

Hell, for a little while, it looked like Arizona football players Anthony Thomas and Bobby Wade wanted to get on the court and do a little rumbling themselves. But that would probably have been frowned upon by John Mackovic, unless they "competed."

That being said, the second half lacked much of the physical intensity of those six minutes. It was probably because ASU managed to get back into the game after trailing by 18 before the fight. And that meant the game went back to being your standard-issue ASU-UA game, which is probably why they didn't let the 30 or so UA students who tried to wear "FUCK ASU" shirts wear them into the games. After all, why would you want to hurt anyone's feelings?

It was good thing the game went down to the wire, or there would have been little reason to watch the second half. Well, except for the entrance of "Ohh-Ahh" man during the last time out.

But for at least those six minutes, McKale felt a little more like Cameron Indoor or Allen Field House when the hated in-state rival comes to town.

And for that, I thank you Kyle Dodd. You too Isaiah.