By Dan Komyati
Arizona Daily Wildcat
Thursday Feb. 21, 2002

If Jennie Finch played collegiate basketball, she would have left for the pros a long time ago.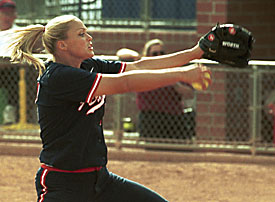 KEVIN KLAUS/Arizona Daily Wildcat
Senior pitcher Jennie Finch winds up for a pitch last week against New Mexico State at Hillenbrand Stadium. Finch will try to set a new NCAA consecutive victories record this weekend in the Worth Wildcat Invitational at Hillenbrand Stadium.
The senior pitcher/first baseman is the reigning Honda National Player of the Year, and College World Series Most Outstanding Player after guiding UA to its sixth national championship.
Her perfect season of 34-0 in 2001 earned her NCAA perfection unparalleled in the history of women's softball.
But - much to the dismay of the collegiate softball world outside of Tucson - Finch is back for her senior season.
And so far, she's as dominant as ever.
Just when it appeared there was little else for the All-American to achieve in the pitching circle, Finch is primed to rewrite the NCAA record books one more time.
Starting tomorrow, Finch will attempt to surpass a DiMaggio-like record for consecutive NCAA pitching victories.
With 50 straight wins from 1991-1993, Florida State's Rebecca Aase has owned one of the sports most astonishing records for nearly a decade.
Yet in the Arizona Softball Classic this weekend, the Wildcats senior leader may have her chance to leave yet another mark on NCAA softball history.
After an 8-0 start to her 2002 campaign, Finch extended her current winning streak to 48 games. With three projected starts in front of the home crowd this weekend, three victories will place her into some of NCAA softball's uncharted waters.
"I didn't really know about (the record), and then all of a sudden everyone's talking about it," Finch said.
"It's cool and all, but (if it happens) I'll just go out there and treat it like another win."
Playing in the nation's toughest softball conference, Finch has faced and dismantled the top lineups in collegiate softball for the past three seasons. Since her sophomore year, she has compiled a dazzling 61-2 record with an ERA of 0.66.
Pedro Martinez didn't have numbers like that in little league.
And Pedro can't hit either.
Finch has quietly become one of the better hitters in the nation, as well. After tying for the team lead with 16 home runs as a sophomore, she drove in a career high 57 RBI a year ago - nine of which came in one game against Oregon, good for second best in NCAA history.
This season Finch has already clobbered four home runs, while hitting at a gaudy .389 clip.
But personal statistics are something Finch has always regarded as secondary.
She credits much of her success to head coach Mike Candrea and the program in which she has starred for the past four years.
Regardless of her personal accomplishments, the 2002 campaign will be considered a disappointment for Finch unless her Wildcats are able to defend their national championship.
"I don't really like talking about it," Finch said of her chance to rewrite the NCAA record books. "Winning (as a team) is the ultimate goal."
It is not hard to see where the All-American's mentality grows from.
"(The winning streak) is a great accomplishment," Candrea said. "But I honestly don't like talking about it. Team winning comes first and the individual honors will handle themselves.
"I don't want to put any more pressure on Jenny than there already has been."
The La Mirada, Calif., native is most encouraged by the strides her team is making this season and will be glad when talk about setting the winning streak is over.
"It's kind of a little extra pressure," Finch said about her perfection over the past year and a half.
"I just like going out and playing."
After coaching some of the most dominant players in collegiate softball over the last 16 years, Candrea is well aware of why Finch has become one of the most successful Wildcats in the program's illustrious history.
"She is just a great athlete," Candrea said. "And she continues to prepare which allows her to perform on the field."
This weekend Finch is prepared to lead her Wildcats to a few more victories - regardless if she is on the mound or not.
"It's been kind of crazy," Finch said. "The (personal awards) were nice last season, but nothing is sweeter than walking off the field as champions."