By Kate VonderPorten & Lisa Lucas
Arizona Daily Wildcat
Thursday Feb. 21, 2002

Students and coffee shop employees agree: Cafˇs help many people get through the rigorous challenges of college. Laid-back cafˇ environments, in conjunction with the accelerating effects of caffeine, blend to perfect student aid.

"(Students drink coffee) because of its function as a legalized drug and the ability to get more done," said Kate Sierras, first year Pima Community College student and Epic Cafˇ patron.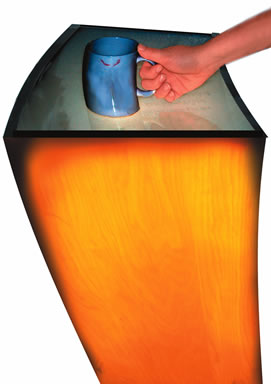 Even when there is no hugely important test to study for, coffee houses feature prominently in many students' lives.
"Students drink coffee at Coffee X Change because it's really social," said Coffee X Change assistant manager and psychology junior Renae Mendez. "I come in and there are people who have been here all night camped with their books, drinking their coffee. I love coffee. I live off of it. If I didn't have coffee, I'd probably die."
Less enthusiastic caffeine junkies seek a casual environment in which they can do homework and cram.
"When I'm studying, (coffee) helps me stay awake and it's something to do - it's kind of relaxing in a way," said Diet Heynh, molecular and cellular biology senior. "I like it here (at Coffee X Change) because it's pretty casual. At other coffee shops, you have to be seated by servers and here you come in and out freely - no one is watching over you."
Studio arts sophomore Patrick Regan agreed.
"At home I won't study at all; here (at Starbucks) there are less distractions," he said.
And then there are coffee drinkers who make no pretenses about studying. Like Scarlett Ivas, studio arts junior, barrista at Epic Cafˇ, they just hang out at cafˇs "to get a buzz on."