By Caitlin Murphy
Arizona Daily Wildcat
Wednesday Feb. 27, 2002

In a move to inform students and faculty about the dangers of drinking, Manzanita-Mohave Residence Hall will sponsor an educational program on alcohol and its consequences today and tomorrow.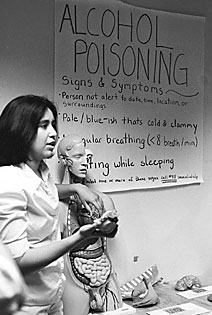 DEREKH FROUDE/Arizona Daily Wildcat
Nursing junior Perla Nuzzo illustrates the physical dangers of drinking with the help of a mannequin yesterday evening in Manzanita-Mohave Residence Hall. More demonstrations will be on display today and tomorrow for Party House 2002, which aims to raise the consequences of drinking.
Sponsored by the Residence Hall Association and Manzanita-Mohave's student government, Party House 2002 showcases interactive scenarios that display and discuss alcohol-related situations.
Among the numerous skits is a "party scene," complete with decorations and a root beer keg. Students and faculty will play different roles that are commonly faced in real life.
While traveling around the facilities, participants will have an opportunity to take a sobriety test with the University of Arizona Police Department and speak with a representative of Campus Health Services about the harmful effects of alcohol on the body.
By breaking away from conventional drinking situations, Party House 2002 will strive to educate people about possible consequences of drinking or drunken driving.
A crashed car parked behind the residence hall shows the effects of an alcohol-related crash.
"The car really hits home for me," said Carrie Young, a pre-business freshman. "My best friend's uncle was killed by a drunk driver, so to see this makes it seem so real."
Young also added that the entire program is perfect for younger students. "It's really informational for students, especially those away from home for the first time," she said.
Tucsonan Nicole Roberts said he thinks Party House 2002 is not only informational but is being presented in a timely fashion.
"It's great to see that the UA is concerned with how students might behave over the spring vacation," Roberts said. "They need to be aware of all the dangers drinking hold."
Despite the timeliness of Party House 2002, Tricia Schwery, Manzanita-Mohave's hall director, said she is more concerned about the message being portrayed.
"Whether students decide to drink or not drink, they will leave here with information to help make responsible decisions," Schwery said.
Each tour will take approximately 30 minutes. The event is open to the public and will run from 7 to 10 each night at Manzanita-Mohave residence hall. Donations toward next year's program are welcome.