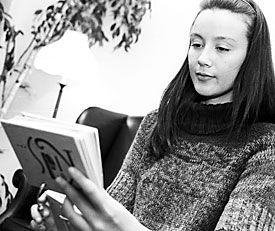 MATT HEISTAND/Arizona Daily Wildcat

Audrey Ching, a higher education graduate student, looks at pictures of her former students yesterday evening in the lobby of Gila Residence Hall. Ching spent two years working for Teach for America, teaching second graders in Compton, Calif., after graduating.

By Lydia Hallay
Arizona Daily Wildcat
Wednesday Feb. 27, 2002

When Audrey Ching graduated, she didn't go searching for a high-paying job or go straight to graduate school. Instead, she taught inner-city children to read.

The higher education graduate student spent two years working for Teach for America, teaching second grade in Compton, a poor area of Los Angeles.

Ching, who said she has countless fond memories of her time in Compton, recalls helping one of her students learn to read.

"He came into second grade unable to read, and when he came out of my classroom he wasn't the best reader, but he still left knowing how to read," she said.

Ching was one of 28 University of Arizona alumni to participate in Teach for America during the past 11 years. Similar public service organizations, like the PeaceCorps and AmeriCorps, also seek graduates interested in service.

In an address to the nation last month, President Bush recommended that all Americans consider devoting two years of their life to public service programs like AmeriCorps, the PeaceCorps and Teach for America.

For many UA students, graduation may be the best time to fulfill the president's request to donate time to public service.

Ching said public service programs are particularly good for new graduates who aren't yet sure what they want to do with their lives.

"I think a lot of people want to take a little time off before going out into the workforce or enrolling in graduate school," she said. "No matter what career you're thinking of pursuing, Teach for America will help you prepare for it."

Jessica Brown, a doctoral student in sociology, spent her senior year working at a domestic violence shelter in South Carolina as a participant in the AmeriCorps program.

She says some employers look for more from applicants than just a college degree.

"Graduating from college isn't such a milestone anymore," she said.

Sean Ryan, a biochemistry senior, is a campaign coordinator for Teach for America on the UA campus.

He said participation in the program is particularly appealing to prospective employers.

"It's an incredible thing to add to a resumŽ," he said.

Bill Ruggirello, assistant director of employer relations at Career Services, said that with the job market currently on the decline, it is beneficial for students to enhance their resumŽs with participation in public service programs.

"I think it says a lot about a candidate that they contributed something to their community in this way," he said.

Ruggirello said because the job market is tight, more and more students are looking at enrollment in programs like AmeriCorps and Teach for America after graduation. He said many of these programs offer government subsidies upon completion that can be used to help students pay for their education.

"It's a great opportunity to give to the community and to help pay off student loans," he said.

Stephan Scholz, a doctoral student in sociology, said he spent a year living on a naval base in South Carolina as a participant in the AmeriCorps program. During his time with the program, Scholz worked with service groups like Habitat for Humanity, the Special Olympics and the National Parks Service.

He says that the AmeriCorps program provided him and his co-volunteers with uniforms, vans to ride around in, gas, food and small weekly stipends. At the end of his assignment, he said he received a $5,000 education award.

He said the experience oftentimes reminded him of an episode of MTV's "Road Rules."

"You basically live, eat, work and play with the same people," Scholz said.

Brown said she joined AmeriCorps because she wanted to "make a difference," but also because she knew it could her help her financially.

"At the time, it gave me a certain sense of self-worth, but it also benefited my college tuition," Brown said.