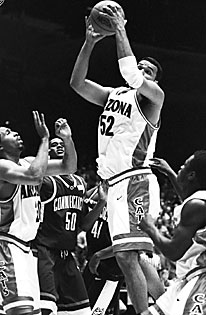 KEVIN KLAUS/Arizona Daily Wildcat

Freshman UA center Isaiah Fox (52) pulls down a rebound last month against Connecticut in McKale Center. Fox returned to the starting lineup last week against ASU.

By Jeff Lund
Arizona Daily Wildcat
Wednesday Feb. 27, 2002

Freshman centers compete for starting spot

Heading into the 2001-2002 season opener against No. 2 Maryland, Arizona head coach Lute Olson needed to make some important decisions.

Since the Terps had such a powerful front line - Lonny Baxter, Chris Wilcox, Tahj Holden - Olson made it clear that the starting positions would be decided by the amount of rebounds accumulated during scrimmages in practice.

It was freshman center Isaiah Fox who hit the glass the hardest, and therefore got the nod when the team traveled to New York for the matchup with Maryland.

Fellow freshman center Channing Frye patiently waited on the sideline for his turn to enter the game.

Both Fox and Frye saw equal minutes and recorded four rebounds apiece in the upset victory.

Fox's place in the starting lineup became a bit more solid after snatching eight more the next night in another shocker against No. 5 Florida.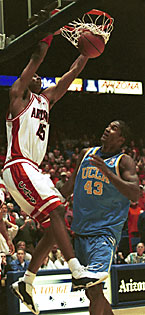 KEVIN KLAUS/Arizona Daily Wildcat
Freshman UA center Channing Frye dunks over a UCLA defender last month in McKale Center. Frye has split starts with teammate Isaiah Fox this season depending on who had the most rebounds in practice.
Though the 6-foot-9, 265-pound Fox started the first five games of the season, and six of the first seven, Frye was an integral part of the team's inside game.
Frye emerged as a scorer early and worked hard on the boards, eventually replacing Fox in the starting lineup.
Fox's minutes decreased steadily as Frye found his niche.
The 6-foot-10 Frye took advantage of his extended playing time, recording five double-doubles, seven 10-plus rebounding games and leading the team in rebounding 10 times while in the starting lineup.
Fox said he never got discouraged, instead just waiting for his time to come again.
"I don't really know what happened," Fox said. "I went into a slump. Channing was playing so well, and we were winning. That is what was important. It was fun to see us win and fun to see Channing do well, but at the same time, I wanted to be on the floor helping the team."
Fox continued to battle with Frye not only in search of a starting spot, but to do what he could for the team.
The hard work paid off, and Fox returned to the starting lineup last week against Arizona State.
He made the most of it, grabbing a career-high 12 rebounds.
Olson said that with Fox's reemergence as a force in the middle and Frye's consistent play, either player will be able to contribute, but again the starting decision for tomorrow's game against Stanford will come from the work on the glass during practice.
"The post position with us will be either Fox or Frye," Olson said. "We'll determine that based on how they do this week. Certainly, both will be counted on heavily. A lot of it will be determined by rebounding."
However, Frye said he is far from being discouraged after losing his starting spot.
"My attitude is the same as it was in the beginning of the year," Frye said. "I just love playing. Every day I get a chance to play basketball I get to prove myself."
Both players agree that though the battle on the boards is intense, both are focused on a common goal, rather than simply the starting role.
"It feels good to start," Fox said. "It feels better to win. We both want to start, so we definitely don't dog it in practice."