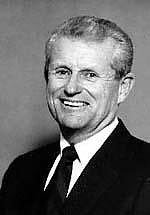 Photo courtesy Arizona Media Relations

Head track coach Dave Murray will retire after this season, putting an end to his 35 years of coaching at UA.

By Brian Savitch
Arizona Daily Wildcat
Wednesday Feb. 27, 2002

After 35 years as Arizona's cross country coach and 22 years as coach of Arizona's track and field teams, Dave Murray will retire at the end of the season.

Murray will be replaced by his longtime assistant head coach Fred Harvey. Harvey has been coaching with Murray for 15 years, and Murray said he was the obvious selection for the job.

"It would have been a crime if (Harvey's hiring) didn't happen," said Murray. "In my mind it was the only choice. I'm sure he will continue the tradition."

UA Director of Athletics Jim Livengood made the selection to name Harvey as the new head coach.

"I think he's absolutely ready. He is the perfect transition. He's coached and worked with Murray for years, and I know he'll be a tremendous ambassador for the university," Livengood said.

Since Harvey specializes in sprinting, the Wildcats are still in search of a new coach to fill Murray's specialty, which is distance and cross-country.

Murray said he's proud of what he's been able to accomplish in his tenure.

"This program has accomplished a lot over the years," said Murray. "Sure, I would like to say that I've won a national championship, but we've finished second and third a number of times."

"This program has been pretty successful over the years."

Murray said he will definitely walk away from his job with a smile on his face.

"It's been a very good experience. I was a student athlete and ran in '62, and I came back to coach in '67," said Murray. "Thirty-five years later, I'm still here, and it's been a tremendous coaching career."

When Murray's last season ends at the end of May, he said he'll miss the people more than anything.

"I'll miss the kids the most; there's no question about that," he said. "Also the camaraderie dealing with the people - from the secretaries to the other coaches - will be missed. I've formed a lot of friendships over the years."

Livengood may have summed it up best with his comments on Murray.

"He's been exactly what you would hope a coach would be," he said. "He's provided honesty, loyalty and integrity. He's as a true a Wildcat as one can be."