By Josh Bogorad
Arizona Daily Wildcat
Wednesday Feb. 27, 2002

Yesterday Lorena Ochoa - the No.1 women's golfer in the country - won her second consecutive Wildcat Invitational championship in as many attempts. The Wildcat Invitational is the lone home tournament of the season for the No. 11 UA women's golf team.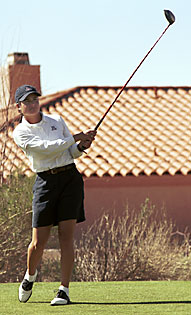 AMY WINKLER/Arizona Daily Wildcat

Arizona sophomore Lorena Ochoa - the No. 1 women's golfer in the nation - admires her tee shot Monday during the Wildcat Invitational at The Raven. Ochoa broke the Arizona career victories record yesterday with her tenth win in sixteen career tournaments.

The Wildcats as a team fell just shy of their try at a repeat victory, ending the 54-hole tournament tied for second place, 7 strokes behind Duke. Their score of 883 (19-over-par) was good enough to tie them with Auburn.

It seems like every time Ochoa tees off, she's breaking another record. The victim this time was Marisa Baena and her nine career victories at the University of Arizona.

Ochoa's unprecedented 10th career tournament championship is even more impressive considering that the sophomore has only competed in 16 career tournaments.

The championship also extended her winning streak to six tournament championships in a row.

Ochoa completed play with a score of 207, five strokes ahead of her closest opponent and finished under par in each of her three rounds. In 17 rounds of golf this season, Ochoa has finished at or below par 15 times.

Head coach Greg Allen said he is in awe of how his star is playing.

"She's in the zone right now," Allen said. "I don't know if anyone in college golf can touch her."

The world will soon find out if any professional can touch her either. Ochoa has received sponsor exemption from the LPGA and will spend three weeks playing among the best women in the world. The first of Ochoa's three appearances on tour will come March 14 in Phoenix.

Ochoa said she knows she is playing well and had a lot of confidence heading into her sophomore season.

"She started the season with two goals," Allen said. "One was to win every tournament, and the other was to have an average under 70. It's pretty amazing to even set those goals."

And to date, she is on pace to achieve them. She has six wins in six tournaments thus far, and her average round is just more than 69.

Allen said he sees no sign of her slowing down.

"Lorena is only going to get better," Allen said. "She loves the pressure situations."

Playing in the No. 2 spot for UA was Laura Myerscough. She continued her impressive junior year, finishing in the Top 25.

"Laura's been steady for us," Allen said of Myerscough, who moved up two spots from her position on the team last year. "It's been a big adjustment for her, but I saw some great signs from her this week."