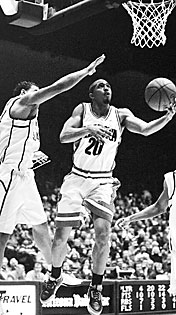 KEVIN KLAUS/Arizona Daily Wildcat

UA freshman guard Salim Stoudamire attempts a reverse layup in the Wildcats 99-53 victory against California Saturday. Stoudamire and the Wildcats earned the No. 2 seed in the Pacific 10 Conference Tournament with the win.

By Jeff Lund
Arizona Daily Wildcat
Monday Mar. 4, 2002

UA embarrasses Cal by 46 points

The regular season could not have ended any better for UA head coach Lute Olson's team.

With Saturday's 99-53 win over Cal, the Wildcats (19-9 overall, 12-6 in conference) finished second in the Pacific 10 Conference and will face in-state rival Arizona State in the opening round of the Pac-10 tournament.

Not only did the win against Cal give UA the No. 2 seed in the conference tournament, which starts Thursday in Los Angeles, but it was a huge momentum builder for the team and perhaps the most complete game of the season.

"Some days we are just clicking," freshman forward Dennis Latimore said. "That's just how it goes. There was no way we weren't going to be psyched up for this game. The team was ready to bounce back. This game will give us a boost before the tournament."

Latimore, along with freshman Will Bynum, provided a huge spark off the bench. Latimore netted a career-high 12 points, and Bynum hit for 14 points in 16 minutes.

The freshmen were two of six Wildcats to score in double figures. UA was led by junior forward Ricky Anderson's 17 points.

"I was really pleased with the play of Dennis Latimore," Olson said. "It was great to see him have that kind of a game. It was a good send off for both (Bynum and Latimore)."

Bynum, who didn't play in Thursday's loss against Stanford because he missed practice, said his performance against Cal provided a huge confidence boost.

"I felt real good," Bynum said. "I was down on myself (after the loss to Stanford). I felt if I would have played, we would have had a better opportunity to win (against Stanford). I felt I had to get the team going. We made a statement in the Pac-10 that we aren't going to let up until the end."

Olson said although the absence of Bynum hurt his team against the Cardinal, he stands by his decision and was pleased to see how Bynum bounced back.

"We are shallow at best (without Bynum)," Olson said. "Everyone knows that rules apply to everybody. You either have rules and stick to them, or you don't have rules at all."

Junior forward Luke Walton also recovered from Thursday's heartbreaker by tallying 10 points, 11 assists and seven rebounds. Walton was just three rebounds shy of his second career triple-double.

While it looked like Arizona broke out of a slump after losing three of its previous four games, the Golden Bears fell into one.

The Bears shot a dismal 32.8 percent from the field.

"Cal just couldn't throw it in the ocean," said Olson. "Even the really good three point shooters couldn't find the bucket."

The Bears connected on just 3-of-17 from three point line, compared to Arizona's 14-of-32.

Four of Arizona 3-pointers came as the Wildcats went on a hellish 45-9 run over the final four minutes of the first half and the first 10 minutes of the second.

"When a team that shoots the ball as well as they shot the ball goes 3-of-17, that's a nightmare," Olson said. "Nothing seemed to go right for them."

Not only did Cal struggle from the field, but also was brutalized on the boards.

Eight different Wildcats had two or more rebounds, as UA out-rebounded Cal 48 to 27. The 21-rebound advantage matched the highest of the season for Arizona.

When the Wildcats out-rebound their opponents it usually spells victory, as indicated by their 12-1 record in such games.

Junior guard Jason Gardner said the team's all-around performance could not have come at a better time.

"We moved the ball a lot better and rebounded better (against Cal)," Gardner said. "It's motivation for us that we finished second. ASU is more of a rival for us now and I think a lot of guys will be motivated."

Though Arizona is tied with Cal, Southern California and Stanford - all with 12-6 conference records - the Wildcats hold the tie breaker over the other three teams and will be seeded No. 2 on Thursday.

The 12-6 record marks the 16th time in the last 17 seasons that Arizona has won at least 12 conference games. The only time in that span that Arizona failed to win at least 12 league games was 1996-97, the year the Wildcats won the National Championship.

Gardner said being seeded No. 2 will give the team an emotional lift heading into the post season.

"We talked about either being the second seed or the sixth seed. That was a lot of motivation," Gardner said. "There were a lot of people saying we were going to finish fourth or fifth in the Pac-10. We wanted to prove everyone wrong."