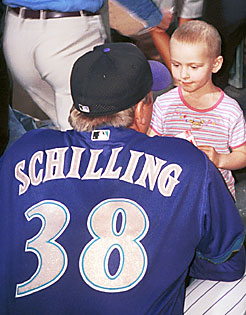 MAXX WOLFSON/Arizona Daily Wildcat

Curt Schilling of the World Champion Arizona Diamondbacks talks with 5-year-old cancer patient Rebecca Plate prior to his game with the San Diego Padres last week at Tucson Electric Park. Schilling and former UA student Branden Lombardi have started the Rally Cap Program to give baseball hats to cancer patients.

By Maxx Wolfson
Arizona Daily Wildcat
Monday Mar. 25, 2002

UA student sets up baseball cap distribution program with World Series champion

Many cancer patients who lose their hair decide to cover up their bald heads with a baseball hat.

Now, thanks to a former University of Arizona student and a World Series champion, cancer patients can get brand new major league baseball hats to cover their heads.

Branden Lombardi, who is taking a semester off from his studies at UA to recover from cancer, has teamed up with major league pitcher Curt Schilling and started a new foundation called Rally Caps, which donates baseball hats to cancer patients.

Lombardi, 20, thought of the idea of starting Rally Caps after meeting Schilling in January when both of them were carrying the Olympic Torch in Phoenix.

"Curt sat down next to me on the bus and we just started chatting," said Lombardi, who is recovering from osteogenic sarcoma, a common form of bone cancer in young adults. "He said he would like to get involved with my foundation, but I didn't know what he could do. Then, three days later, I was sitting on my couch and I thought of the idea of starting Rally Caps, and I called Curt and he loved the idea."

Schilling was more than willing to help. He pitched the idea to the Diamondbacks, and with the help of New Era, the official outfitter of MLB, they have started the program in less than two months.

"We wanted to get the word out before the season started," said Schilling, whose wife, Shonda, was diagnosed with potentially life threatening melanoma two years ago.

"Eventually we want the program to go national. Hopefully we can outfit treatment centers not only in Arizona but also across the nation."

Schilling and Lombardi filmed a public service announcement together describing the program. The PSA will begin airing in Tucson and Phoenix this week.

On Wednesday night, the Rally Cap program made its official debut when Shane Chavis, 22, and Rebecca Plate, 5, received hats during a pre-game ceremony at Tucson Electric Park prior to the San Diego Padres and Diamondbacks spring training game.

Chavis, who will start taking classes at UA in the fall, met Lombardi when they were both recovering from cancer at University Medical Center. He has Ewing sarcoma in his shoulder and had the tumor removed in September.

"Branden asked me if I would like to help and I told him I am willing to do whatever I can," Chavis said.

Plate, though only 5 years old, has already had her fair share of meeting professional baseball players.

When recovering from acute lymphocytic leukemia at UMC, she met Brett Prinz of the Diamondbacks when he was showing cancer patients the World Series trophy.

However, she gets more excited when she sees Lombardi than she does when she meets the professional ballplayers, said her father David Plate.

Right now the program is only offered in Arizona and is sponsored by the Branden Lombardi Foundation, the Arizona Diamondbacks and New Era.

To receive a hat through the Rally Cap program, patients can call 1-877-2ChipIn or e-mail chipintofight@aol.com. Even if the patient is not a Diamondback fan, he or she can choose a cap from any major league team.

"What better way is there to get a baseball hat from none other than Major League Baseball?" Lombardi said.

With the help of Schilling, the Rally Cap program's ultimate goal is to be available in all 30 major league cities.

"Whatever Branden needs me to do," Schilling said. "I'm here to hopefully open doors if he needs them open and introduce him to people."

Editor's note: If you're interested, donations to the Branden Lombardi Foundation can be made at 1-877-2ChipIn.