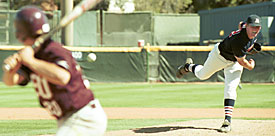 MATT HEISTAND/Arizona Daily Wildcat

Sophomore pitcher Marc Kaiser releases a pitch yesterday in the Wildcats' 10-1 win over ASU at Sancet Field. Arizona salvaged its conference-opening series with a win yesterday after losing Friday and Saturday.

By David Stevenson
Arizona Daily Wildcat
Monday Mar. 25, 2002

Arizona avenged two series losses with a 10-1 win against No. 15 Arizona State yesterday.

The Wildcats closed out their first Pacific 10 Conference series of the year with two losses while committing 12 errors and leaving 25 runners on base.

"I'm happy with the win, but not very happy with (the series). We can't pitch and play defense as poorly as (Saturday and Friday) and expect to be where we want to be when it's all said and done," head coach Andy Lopez said.

Starting pitcher Marc Kaiser limited the Sun Devils (18-9 overall, 2-1 Pac-10) to a season-low four hits in his second consecutive complete game.

"My goal is to just throw strikes and let the hitters get themselves out," Kaiser said. "A good pitcher's pitch will always get a good hitter out, and I guess I had some of those today."

The lone Sun Devil run came in the top of the sixth when left fielder Rod Allen led off with a solo home run to left. The run extended Arizona State's NCAA consecutive run-scoring streak to 402 games, dating back to April 7, 1995.

"I probably shouldn't have thought about it, but I was like, 'let's shut this thing down.' But (Allen) just got (the run) so, oh well," Kaiser said.

Arizona (20-10, 1-2) got some timely hitting, scoring six two-out runs in the game.

The Wildcats jumped out to a 4-0 lead with three runs in the second inning. Second baseman Moises Duran singled home first baseman Rick Mercado and third baseman John Hardy. He then scored on a balk, the first of three by ASU pitchers on the day.

Duran went 2-for-3 with three RBIs and a walk. The sophomore returned to the starting lineup after Hardy - who started at second on Saturday and Friday - made four errors in two days.

"I am playing for my job, and I just want to take advantage of a chance that I got today," Duran said.

Sophomore Sean Rierson has pitched on Fridays throughout the year as the staff ace, but Kaiser's recent performances have been tough for Lopez to ignore.

"He may be our Friday-night guy - the last two performances would indicate that he may be our best guy right now. We won't make any adjustment this weekend (against Oregon State) because it's a quick week with Easter, but if it were a Friday, I would throw him right now based on what he has done."

Saturday, ASU dealt the Wildcats a 10-6 loss behind a three-run seventh, highlighted by right fielder Adam Ethier's two-run homer.

Arizona answered with two runs in the bottom of the inning, but the Sun Devils scored three insurance runs in the ninth to preserve the victory.

The Wildcats never had the lead but did score four runs in the bottom of the sixth to tie the score.

Catcher Chris Cunningham led off the sixth with a solo homer to center, his seventh on the year. Center fielder Brian Anderson struck out, Kaiser singled, Mercado walked and first baseman Pat Reilly moved them over to second and third, respectively, on a fielder's choice.

Left fielder Justyn St. Clair then hit a grounder to second, but wound up all the way on third when ASU's Sergio Garcia threw wildly to first, scoring both Kaiser and Mercado. St. Clair later scored on a wild pitch.

But ASU answered with three runs in the seventh that gave it the lead for good.

UA starting pitcher Joe Little gave up seven runs on 11 hits over 6 2/3 innings to run his record to 5-2.

Cunningham finished the day 2-for-5 with a homer and a double.

On Friday, Anderson came on to close out the ninth inning but gave up three runs en route to the 9-7 loss.

ASU overcame a five-run late-game deficit, thanks to UA committing seven errors and leaving six of its nine runners on base in scoring position.

"I hope that seven runs are enough, but maybe it's not. If it's not, then we've got some problems," Lopez said. "We're not going to be a club that will put up 12 or 10 runs a game - seven runs is a pretty good offensive output for us right now."

UA had a pair of three-run innings in the fourth and fifth to lead 7-2.

However, ASU countered with three runs in the sixth and another in the eighth to cut the Wildcat lead to 7-6.

In the ninth, ASU loaded the bases with one out on two walks and a Hardy error. Ethier worked the count full until he singled up the middle, driving in two runs. The Sun Devils went on to score one more because of errors on the same play by shortstop Brad Hassey and Hardy.

"Obviously we've got to do a way better job of catching the ball, throwing strikes and protecting the lead, but hopefully we'll get better for (the loss)," Lopez said.

Arizona will travel to Corvallis, Ore., to take on Oregon State Thursday.