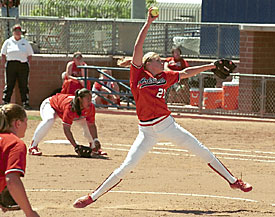 JON HELGASON/Arizona Daily Wildcat

Senior Jennie Finch (27) winds up for a pitch as sophomore Leneah Manuma, center, and freshman Jackie Coburn, left, anticipate the play yesterday against Louisiana-Lafayette at Hillenbrand Stadium. The Wildcats beat the Ragin' Cajuns, 7-2, to complete the series sweep.

By Dan Komyati
Arizona Daily Wildcat
Monday Mar. 25, 2002

With the Arizona softball team just beyond the midway point in its season, the milestones continue to pile up.

This weekend, head coach Mike Candrea became the fifth Division I softball coach to earn 900 victories as the Arizona softball team swept three games with No. 18 Louisiana-Lafayette (19-9).

UA (31-4) finished its last tune-up before Pacific 10 Conference play with a 7-2 victory over the Lady Cajuns yesterday.

Senior pitcher Jennie Finch (18-0) allowed a pair of solo home runs to junior Becky McMurtry, but that would account for all of Lousiana-Lafayette's runs as Finch scattered seven hits in as many innings. The All-American also tied a career high with 15 strikeouts in extending her NCAA record to 58 consecutive wins in the circle.

UA's offense got on the board in the second inning when freshman center fielder Crystal Farley slapped a single to left field to score freshman third baseman Jackie Coburn.

After an error helped push across UA's second run, the Wildcats gave Finch some breathing room in the bottom of the fourth. Junior shortstop Lovie Jung roped a two-run single to center, and sophomore first baseman Leneah Manuma added a sacrifice fly to right to give UA a 5-1 cushion.

Manuma gave Wildcat fans one last reason to cheer in the sixth when she crushed a two-run shot - her team-leading 16th of the season - well into the construction site beyond what used to be the Gittings Building pool in center field.

With another great weekend at the plate - including six RBIs and four runs scored - Jung said she thought her team picked up its play as the weekend wore on.

"We came out pretty slow (on Friday) - we scored in the first inning, but we kind of laid back in our approach," Jung said. "But we had a great game (Saturday) night, and our intensity level was up, which we're trying to work on."

That focus Saturday translated into an 8-0 victory in six innings. The Wildcats used a patient offense and a great pitching performance from sophomore Jenny Gladding to shut down the Lady Cajuns.

Coburn started things for UA with a solo home run in the second inning - her eighth blast of the season. After the Wildcats managed to load the bases with no outs in the third, Coburn added an infield single to score the only run the Wildcats would push across in the frame.

Gladding (13-4) danced around trouble in the early innings and got stronger as the contest wore on. She struck out five of the final six batters she faced to finish the game with 10 K's, and earned her seventh shutout of the season.

After sophomore catcher Mackenzie Vandergeest drilled her ninth home run of the season in the fifth, UA closed things out with a three-run sixth inning that put the eight-run rule into effect. Manuma belted an RBI double to left field to score Jung, and Finch followed by lining a two-run shot over the center-field fence for the walk-off home run.

"I was very pleased (Saturday) night with the entire atmosphere of the game," Candrea said. "It was fun to see we finally put things together."

With 899 career victories for Candrea entering the weekend, his Wildcats left little doubt about when he would achieve his milestone as they jumped to a 4-0 lead after one inning on Friday. Jung led the game off with her first of two home runs of the day, and Finch added a three-run shot of her own to give herself all the run support she would need.

The historic 6-2 victory also saw the return of freshman outfielder Courtney Fossatti, who missed more than three weeks with a stress fracture in her left foot.

Fossatti - who led the Wildcats with a .475 average before her injury - contributed four hits during the weekend and was a welcome return to the Wildcats lineup.

"It was nice to have Fossatti back. She gives us a good physical boost, and she's a very emotional player," Candrea said. "She loves to play the game hard, and you can tell the game is a big part of her life, so it was good to have her back."

The continued dominance by the Wildcats at Hillenbrand Stadium extended their home winning streak to 68 games.

As UA begins its rigorous Pac-10 schedule with next weekend's trip to Tempe, Candrea said this weekend served as good preparation for the challenges ahead.

"I think overall I'm very pleased where we're at right now," Candrea said. "The bottom of our order was very impressive this weekend.

"It was a good weekend for us to have prior to Pac-10 play, and now we just have to get ready for the Sun Devils."