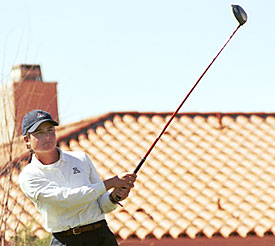 file photo/Arizona Daily Wildcat

Sophomore Lorena Ochoa admires a shot last month at the Wildcat Invitational. Ochoa finished tied for fifth at the Welch's/Circle K Championship yesterday in Tucson.

By Justin St.Germain
Arizona Daily Wildcat
Monday Mar. 25, 2002

Ochoa finishes tied for fifth in Tucson LPGA event

Wildcat golfer Lorena Ochoa placed fifth in the Welch's/Circle K Championship this weekend at the Randolph North Golf Course in Tucson.

Ochoa, the No. 1-ranked college golfer in the nation, was the only amateur competing in the annual Tucson LPGA tour stop.

The sophomore shot a 4-under-par 68 to finish play yesterday with a final score of 14-under-par 274. Her fifth-place finish is the best ever by an amateur in the event, beating her old mark of seventh place set in 2001.

Ochoa entered the final day of play tied with former UA star Marisa Baena - older sister of current Wildcat Cristina - and five others for seventh place, six shots off the lead, after shooting rounds of 70, 67 and 69 the first three days.

But Ochoa and Baena weren't the only Wildcats walking the Randolph fairways over the weekend. This year's Championship featured last year's Welch's winner and former UA great Annika Sorenstam, 2001 NCAA individual champion Jenna Daniels, and Natalie Gulbis, a member of the 2001 national championship team, among others.

Ochoa will conclude both her three-tournament LPGA swing and her sabbatical from the UA team at the Kraft Nabisco Championship, a major tournament, Thursday.
---
Ochoa-less Wildcats take on Texas
The Arizona women's golf team tees off in Austin, Texas today with history on its side, but without the best player in college - Wildcat phenom Lorena Ochoa.
While Ochoa rests in Tucson after her fifth-place finish in the Welch's/Circle K Invitational, the rest of the team opens play at the Betsy Rawls Longhorn Invitational, which Arizona has won twice. This year marks the first time since 1996 the Wildcats will play in the event, held at the Barton Creek Resort.
Arizona is the lone Pacific 10 Conference representative in the 14-team field, which features four Texas teams.
Head coach Greg Allen, a former Longhorn men's assistant coach, said he is looking forward to his Texas return.
"I'm excited. It will be good to be back, see some old friends, get some good ol' Texas barbecue," Allen said.
Junior Laura Myerscough, the team's No. 2 player for most of the year, will team with senior Cristina Baena and freshman Mar Garcia in an attempt to fill the void left by Ochoa's absence.
"It's going to take a team effort. I expect Laura Myerscough to be our leader," Allen said. "It's time for her to step up and be a leader with Lorena gone."
Garcia and Baena both enter this week's play battling nagging injuries. Garcia - the younger sister of PGA star Sergio - played through the pain of a sore shoulder to place 13th in her collegiate debut at the Wildcat Invitational last month. Baena also made her debut at the Wildcat Invitational after missing the entire fall season while recovering from wrist surgery.
"I look for Mar to step up this week and play well, and also Cristina, even though they've both had injuries," Allen said.
Cathie Williamson, a senior from Shelby, Mont., will compete in her fifth event of the season. Freshman Miriam Kraschinski rounds out the UA lineup, while her older sister, Julia, will compete as an individual.
Though it may affect his team's success, Allen said he is glad to see Ochoa succeed on her professional sojourn.
"It's awesome. What she did (yesterday) - she's amazing," Allen said.
But Allen said he wasn't surprised by Ochoa's top-five finish against tour veterans.
"It wouldn't have surprised me if she had won," Allen said. "But for her to do what she did (yesterday) is great."