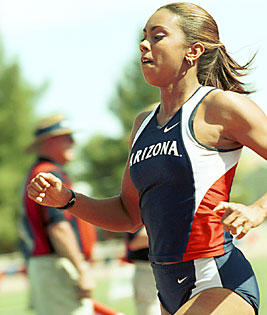 ERIC M. JUKELEVICS/Arizona Daily Wildcat

Senior track All-American Brianna Glenn finishes up the 100m yesterday with a time of 11.36 to set the new Drachman Stadium record. The Wildcats won the team title at the Jim Click Shootout.

By Charles Renning
Arizona Daily Wildcat
Monday Mar. 25, 2002

The men's and women's track and field teams joined forces this weekend and won the Jim Click Shootout with a combined point total of 376.5.

"It was a close meet," said head coach Dave Murray. "That's what we like to see."

Kansas State finished second with 327 points, followed by Boise State in third with 311.5 and Air Force in fourth with 270 points.

This Wildcat victory came against a field that featured two former Arizona coaches, Mike Maynard of Boise State and Ralph Lindman of Air Force.

"It's always fun when you have good friends to compete against," said assistant head coach Fred Harvey. "It makes it a little special."

The Wildcats received strong performances in multiple events from their athletes.

"In every single area, there was a spectacular performance," Harvey said. "That just shows that we can compete at a high level."

Senior Brianna Glenn continued her impressive track career with another outstanding run in the 100m. She ran a time of 11.36, which is good enough for an NCAA provisional qualifying mark and a Drachman Stadium record.

Glenn also won the 200m with a Pacific 10 Conference qualifying mark of 24.06, while teammate senior Alexandra Komnos pulled out a victory in the 100m hurdles with a Pac-10 qualifying time of 14.52.

Glenn, Komnos, junior Seynabou Ndiaye and sophomore Chelsea Powell were part of the 4x100m relay team that finished first with a time of 45.78.

Seniors Cara Cline and Tara Chaplin won the 800m and 3,000m, respectively.

In the men's sprinting action, Murray said he thought freshman Jeff Hunter was the athlete of the meet.

Hunter won both the 110m hurdles and 400m hurdles with Pac-10 qualifying times. He was also a member of the 4x100m and 4x400m relay teams that won both events. Hunter and teammates Mike Kenyon, Matt Lea and sophomore Chris Harris formed the 4x100m team that ran an NCAA provisional-qualifying time of 40.02.

Kenyon also won the 200m and 400m, which was also a Pac-10 qualifying run.

In the field events, junior javelin thrower Julie Demarini qualified for an NCAA provisional with a throw of 19.34, which was good enough for a second-place finish.

On the men's side, sophomore Kevin Opalka won the pole vault with a Pac-10 qualifying mark of 5.10m and freshman Sean Shield finished second in the shot put with an NCAA provisional qualifying mark of 17.92m.

"Everyone was clicking," Hunter said. "All the hard work and practice paid off."

The UA track and field teams will resume competition next weekend in Stanford, Calif., at the Stanford Invitational and will be back home in two weeks to compete in the California vs. Arizona Challenge.