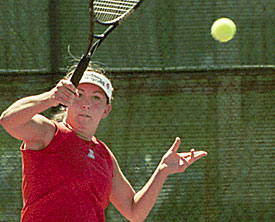 ALYSON E. GROVE/Arizona Daily Wildcat

UA senior Laresa Marino returns a serve Saturday against Illinois at the Robson Tennis Center. Arizona defeated the Fighting Illini to move their non-conference record to 6-1.

By Brian Penso
Arizona Daily Wildcat
Monday Mar. 25, 2002

When the UA women's tennis team takes on opponents outside of the Pacific 10 Conference, it is usually successful.

The Wildcats entered the weekend with a 6-1 record against non-conference opponents and improved on that by defeating Illinois 5-2 over the weekend.

The match was the first time UA has taken the court since losing to Stanford 1-6 on March 9.

"It was a great win for us this weekend," sophomore Debbie Larocque said. "It was a good feeling to get the winning feeling back against Illinois. It was also nice to get back on the court and come together as a team and compete."

Arizona (8-6 overall, 1-5 Pac-10) won seven of nine matches against Illinois, including a sweep of the doubles matches, which gave UA an early 1-0 lead.

UA's tandem of Maja Mlakar and Larocque led the way for Arizona with a 9-7 victory against the Illini's top doubles team.

"The doubles point is very important," senior Brooke Taylor said. "If we win the first point, it give us more confidence in our singles matches. Winning the doubles point gets everyone pumped up for the rest of the match."

Larocque agreed with Taylor that winning the doubles point is very important.

"Winning the first point is important for us," Larocque said. "It allows us to go into the locker room more focused and ready to start our singles matches."

Once UA earned the first point of the match, it never looked back.

Mlakar, who is ranked 20th in the nation as a freshman, breezed by the Illini's Jennifer McGaffigan to earn a straight-set victory (7-5, 6-1).

Freshman Dianne Hollands, sophomore Marie-Pier Pouliot and Larocque also earned straight-set victories.

"It was a good win for us," Taylor said. "It was really good that we had a convincing victory over Illinois. It gives us confidence that we can pull off the upset this weekend against UCLA and USC."

With the Wildcats' non-conference schedule concluded, UA faces another conference challenge this weekend as it plays No. 5 UCLA and No. 19 USC.