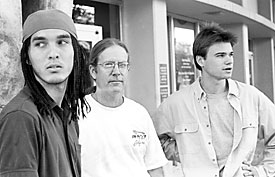 file photo/Arizona Daily Wildcat

Piano performance senior John Aylward, right, plays both jazz and classical piano. Aylward is working with music professor Nicholas Zumbro to enhance his performance skills for his two upcoming solo recitals.

By Lisa Lucas
Arizona Daily Wildcat
Monday Mar. 25, 2002

UA student brings communities together through music

One UA student is liberating himself from stodgy, obsolete stereotypes. Vetoing the traditional confines of a world dominated by older, more genteel musicians, 21-year-old piano performance senior John Aylward prefers to create the dignified sound of classical music.

Though he also plays jazz, Aylward is currently busy perfecting classical pieces for two upcoming performances. The Tucson native said he is using the combination of his youth and his background in classical music to express himself and reach out to others.

Aylward's classical training began at age 10 when he first learned to play the piano. He attributes his early passion for music and development of talent to his family.

He has been a featured performer at upscale area restaurants such as Anthony's in the Foothills and The Tack Room. Last summer, he performed in Europe with the University of Arizona's Symphonic Wind Ensemble.

"Music for me is part of my expression as an individual," Aylward said. "(It is) part of the way that I can contribute to society (and) be a positive influence in the world and in the community."

He added that through his youth, he finds an outlet to overcome the restraints of conventionally "calm and refined" classical music.

"In the classical situation things are more calm or refined," he said. "As a young classical musician, I'm able to break those boundaries because I don't come from these rigid traditions; I'm able to use my classical training in more current trends."

Aylward's musical career developed intensely after he started studying under UA music professor Nicholas Zumbro two years ago.

"Professor Zumbro is a phenomenon," Aylward said. "I consider him genius · he has really taken me a long way."

Zumbro said he has observed Aylward's positive musical progress in the two years he has known him.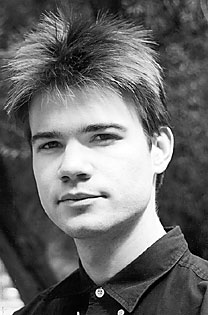 John Aylward
piano performance senior
"I think (Aylward) is a terrific young guy with lots of talent and (he is) unusually organized," Zumbro said. "I think he's going to do tremendous things - he's made amazing progress."
Aylward attributes Zumbro with helping him find his musical voice and giving him direction.
"I've been playing (piano) since I was 10, but I never had the opportunity to become molded through a really intense teacher," Aylward said. "(Zumbro) has really driven me and motivated me to find my voice in music."
Aylward has two piano recitals in April, one in Sonoita, 50 miles south of Tucson, and one show at the UA. His April 6 recital is at the Grasslands Restaurant in Sonoita, a restaurant run by the Aylward family.
In addition to using his parents' restaurant for his Sonoita recital, the show also features the artwork of his sister, Roberta Aylward.
"(Roberta) has done a lot of work for the Portland (Ore.) Visitors Bureau and she works at the Portland, Oregon Visitors Association," Aylward said. "She's really active in Portland and we're really happy that she can take some time out."
The recital program consists of a piece by Bach, a Beethoven Sonata, Claude Debussy's "First Book of Images" and Frederic Chopin's "Second Ballad."
"The majority of it is classical repertoire," Aylward said. "I'll start the program off with two organ preludes written by Bach - organ preludes (that were) transcribed to piano a few hundred years ago, but have remained relatively obscure."
The program also includes the first movement of "Burden of Dreams," a piece composed by Dan Coleman, UA adjunct assistant professor of music.
"Dan Coleman (is a) phenomenal composer," Aylward said. "He does a lot of popular music (and) he arranges string parts for pop musicians."
Both April shows essentially consist of the same musical program with some alterations for the Sonoita recital. The Holsclaw recital includes the entire program.
Aylward's April 6 performance shows at 2 p.m. at the Grasslands Restaurant in Sonoita. Tickets are $25 and include a four-course luncheon and an acrylic art exhibit. Call (520) 455-4770 to make reservations.
The April 16 recital at Holsclaw Recital Hall in the UA School of Music begins at 7 p.m. and is free and open to the public.